Brexit Bulletin: Raab Talks Up Huge Win-Win
What's Happening? After the lofty rhetoric of Brexit day, we're getting a sense of what a trade negotiation might feel like.
It's less than a week after Brexit and the stage sets for upcoming trade talks are being built. There is much to be done: As well as hammering out a high-speed free-trade agreement with the European Union over the next 11 months, Prime Minister Boris Johnson wants the U.K. to undertake an ambitious multipronged set of trade negotiations with other major nations.
Johnson has long argued that the ability to strike trade deals is one of the great prizes of leaving the European Union, and he is prioritizing agreements with the U.S., Japan, Australia and New Zealand. He wants the right to diverge from EU rules, theoretically allowing Britain room to negotiate with multiple partners at the same time. (Sometimes referred to as a sort of three-dimensional chess game.)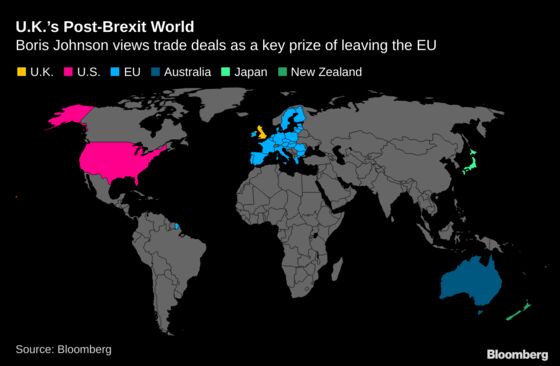 Taking up the mantle on Thursday was International Trade Secretary Liz Truss, explaining how Britain wants mutually beneficial tariff cuts while protecting "sensitive" U.K. products. Simultaneously, Foreign Secretary Dominic Raab was deployed to Australia, which he hailed as a "natural partner" for the U.K. "The scope for win-win is huge," Raab said.
Truss announced plans  to simplify import tariffs after the post-Brexit transition period expires on Dec. 31, and Britain will be able to set its own rates. The smallest tariffs would be abolished, as would those on key components and on goods which the U.K. doesn't produce itself. Other rates would be rounded down to the nearest 2.5% under the plans, which are open to public consultation until March 5.
None of this is especially controversial, and the devil will be in the detail. There was clear daylight between Johnson and EU Brexit lead Michel Barnier when they set out their opening positions earlier this week. For some, that heralds trouble ahead. For others, a way forward lurks amid the rhetoric.
Change in Dublin? | Irish Prime Minister Leo Varadkar is poised to lose Saturday's election, betting odds indicate, with the party that oversaw the nation's international bailout set to return to power. Paddy Power odds give Micheal Martin, who leads the biggest opposition party, Fianna Fail, a 94% chance of heading the government.
Bomb Plot Probe | Police in Northern Ireland are investigating a possible plot to blow up a truck on the day the U.K. formally left the European Union, broadcaster RTE reported Thursday.
Dream On | The U.K.'s ambition to lift economic growth toward its post-war average of almost 3% is "quite unrealistic," the National Institute of Economic and Social Research said.
Rebecca Long Way Behind | Left-wing Labour leadership candidate Rebecca Long-Bailey is placed last among Labour voters in a London Evening Standard/Ipsos MORI poll. However, Labour members will elect the new leader, not just party voters — and that could boost Long-Bailey's chances.
Peerage Politics | It feels like just yesterday that Boris Johnson was sacking Philip Hammond as chancellor and throwing him and pro-European Tory grandee Ken Clarke out of the parliamentary party. Now the prime minister is nominating both men to the House of Lords, the BBC reports.
Language Matters | Fresh from attempting to divide and conquer the Westminster press pack, Downing Street has made another attempt to rewrite the language of Brexit. After Johnson effectively banned the use of the B-word itself, the latest phrase under the microscope is that old favorite, "no deal." According to The Sun, No. 10 instead prefers "non-negotiable outcome."
Want to keep up with Brexit?