Brexit Bulletin: Tory Wars
(Bloomberg) -- Today in Brexit: Rival rebels are on the move in Birmingham, where the Conservatives are holding their annual conference.
Theresa May spent day one of the Conservative Party conference under siege from Brexiteers. Day two will bring some supportive words for the prime minister from Chancellor of the Exchequer Philip Hammond, who takes a swipe at her arch rival Boris Johnson. But her other set of critics will also be in the limelight.
May's problem has long been that she has rebels on both sides: hardline Brexit-backers are threatening to vote down any Brexit deal that keeps ties to the European Union too close, and pro-EU rebels who are fighting for the opposite. Dominic Grieve, the former attorney general who led the fight to give Parliament more power over Brexit, is now calling for a "polite rebellion" by Conservatives to secure a second referendum.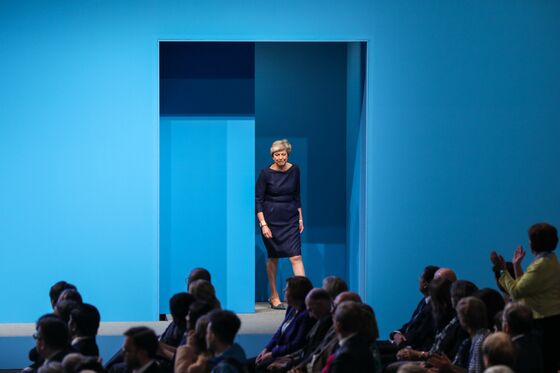 A group of pro-EU Tories hold a fringe event today at the conference to discuss the idea of a second public vote, and turnout will be closely watched. While some in that camp have lost some credibility by caving into the government for key votes, the Labour Party's gradual shift toward backing a second referendum makes each potential Tory rebel's vote count.
Hammond is also up today. He began his week by defending his boss with an unusually personal attack on Boris Johnson, predicting that the former foreign secretary will never be prime minister. Mocking Johnson's old Etonian diction, Hammond laid into his failure to grasp detail.
"Boris sits there and at the end of it he says 'yeah but, er, there must be a way, I mean, if you just, if you, erm, come on, we can do it Phil, we can do it. I know we can get there,'" Hammond told the Daily Mail in an interview.
Former Brexit Secretary David Davis also had a dig at Johnson, even as he called for May to rip up her Brexit plan. The strategy from most Brexiteers seems to be to force May to rewrite her Brexit plan, rather than ousting her – it's not clear they have the numbers to replace her in any case.
The EU meanwhile, looks on, and waits for this week to end, hoping that May will emerge more or less intact. Next week it's back to the business of negotiating. 
Quotes of Conference (So Far)
Hammond on Boris Johnson: "He's never been a detail man."
David Davis on Boris Johnson: "A lot of his ideas, I think, are good headlines but not necessarily good policies."
Johnson on May's Brexit plan: "Deranged."
May defending her Brexit credentials: "I do believe in Brexit."
Scottish leader Ruth Davidson: "In terms of a period of silence, I would be very welcoming of one."
Limits to Compromise | Brexit Secretary Dominic Raab will repeat the mantra that no Brexit deal is better than a bad Brexit deal, but will give a bit more detail. "Our willingness to compromise is not without limits," Raab will say. "If an attempt is made to lock us in via the back door of the EEA [European Economic Area] and customs union ... or if the only offer from the EU threatens the integrity of our union. Then we will be left with no choice but to leave without a deal."
Back in the USSR? | Foreign Secretary Jeremy Hunt, a possible successor to May, compared the EU to the USSR on Sunday as he warned the bloc not to punish Britain. "The EU was set up to protect freedom. It was the Soviet Union that stopped people leaving. The lesson from history is clear: If you turn the EU club into a prison, the desire to get out won't diminish; it will grow and we won't be the only prisoner that will want to escape."
The Cost of Brexit | The Centre for European Reform estimates that the decision to leave the EU has cut 2.5 percent off gross domestic product since the 2016 referendum. It reckons the knock-on effect on the public coffers amounts to £26 billion a year.
The Cost of No Deal | Toyota Motor Corp. could halt production at its Midlands factory for "hours, days, weeks" or even months, in the event of a no-deal Brexit, plant managing director Marvin Cooke told the BBC. Jaguar Land Rover and BMW have also said they could shut down plants in the event of a cliff-edge exit.
One Job Is Enough | Michel Barnier, the EU's chief Brexit negotiator, won't run for the nomination as the European People's Party's lead candidate for the 2019 EU parliamentary elections. "It is my duty and responsibility to continue the #Brexit negotiations right to the end," he said.
On the Markets | Pound bulls have good reason to be nervous this week, Charlotte Ryan writes. Investors are on edge as the Tory conference unfolds. The pound fluctuated around $1.3030 early on Monday. This is what happened to the pound at last year's conference.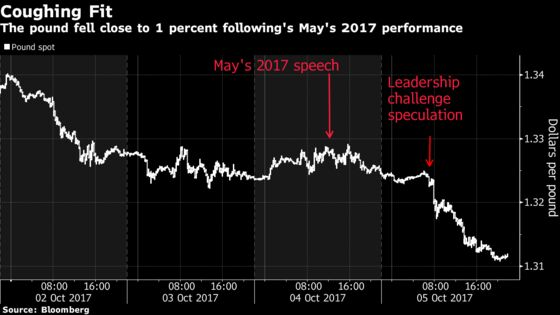 Want to keep up with Brexit?