Brexit Bulletin: Parliament Takes Control
(Bloomberg) -- Today in Brexit: Parliament is taking control of the Brexit process.
The U.K. Parliament is having some success taking charge of Brexit. That probably reduces the chances of the no-deal scenario that businesses dread and makes it more likely that Britain won't leave the bloc on time.
There were some extraordinary scenes in Westminster yesterday as a row broke out over parliamentary procedure. At stake is how much control U.K. Prime Minister Theresa May can keep over Brexit strategy after she's defeated in a vote on her deal next week — as she's widely expected to be.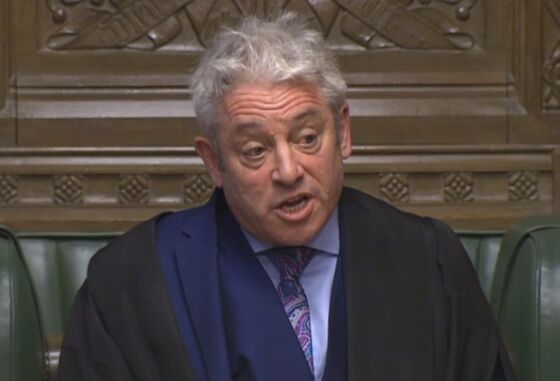 If May's plan was to run down the clock as a way of forcing members of Parliament to stare into the abyss of no-deal and back her proposal as the lesser evil, that's probably been scotched. An amendment that was accepted yesterday amid much controversy reduces her ability to do that because she has to come back three days later — by Jan. 21 — with a plan B.
It was the second defeat in two days in the House of Commons that laid bare the strength of opposition to a no-deal scenario among lawmakers. Afterwards, May's office publicly discussed for the first time what she would do if she loses the vote on Tuesday, Tim Ross and Robert Hutton report. They promised to "respond quickly," without saying what that might mean.
But even as it's clear that May can no longer set the terms of what should happen next, Parliament (and May's own Cabinet) also is divided about what should happen. The Labour Party is, too. That probably makes it more likely that we end up with some kind of extension rather than a clear new policy in time for March 29.
Austrian Chancellor Sebastian Kurz broke the taboo over a possible delay yesterday, saying the European Union may need to consider it as a way of avoiding chaos. Labour's Brexit spokesman Keir Starmer made the same point. As more and more people publicly accept the idea as inevitable, how long before the government does too?
Corbyn's Move | Labour leader Jeremy Corbyn delivers a big Brexit speech on Thursday, in which he'll call for a general election if May loses the vote next week. If his bid to bring down the government fails though, the party has said it would consider arguing for a second referendum. The Times reports that Labour's Brexit spokesman has told Corbyn that a second referendum may be the only way of avoiding a no-deal exit — and a majority of Labour members support one. 
Risk to Rolls-Royce | The luxury carmaker says Brexit-induced delays to just one car part could end up idling its plant in southern England. Meanwhile, Jaguar Land Rover will today announce that it is cutting up to 5,000 jobs from its U.K. workforce, the BBC reports. 
May Meets Abe | Japanese Prime Minister Shinzo Abe meets May today and he's expected to speak out in favor of her plan as the only thing that can protect Japanese businesses such as Nissan Motor from the chaos of no-deal. A joint news conference is scheduled for the afternoon.
Bercow Row | Tories have long argued that Speaker John Bercow is biased against them, but on Wednesday many felt he had gone to a new level in frustrating May's Brexit strategy, Robert Hutton and Alex Morales report. Their complaint: That he unilaterally changed parliamentary rules to allow a vote that would let opponents of a no-deal Brexit take over the timetable of events, at May's expense.
Too Little Too Late | May hasn't secured any concessions from Brussels to make the divorce deal more palatable, but she offered lawmakers some of her own. The Northern Ireland assembly would get veto powers related to new laws coming in under the backstop plan, and the U.K. Parliament would get a vote on whether the country should enter the backstop or continue in the transition period instead. The Democratic Unionist Party wasn't convinced.
Bah Humbug | U.K. retailers had their worst Christmas since the financial crisis, a report shows today.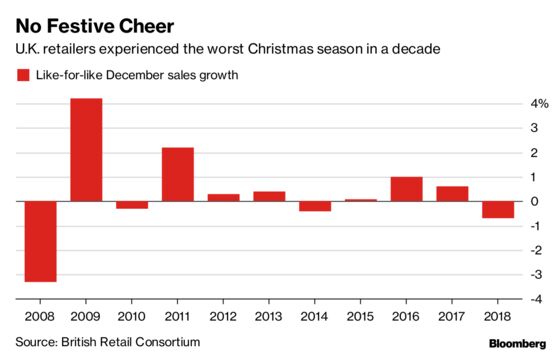 Want to keep up with Brexit?