Brexit Bulletin: Labouring Over a Second Referendum
(Bloomberg) -- Today in Brexit: The Labour Party, long criticized for its ambiguous stance on Brexit, is under pressure to take a more combative approach.
Labour leader Jeremy Corbyn faces his party's biggest financial backer on Tuesday – the workers' union Unite – and it might just turn into a watershed moment for the main opposition party's approach to Brexit.
Corbyn's Labour Party, as deeply divided as the governing Conservative Party over the defining issue of the day, has slowly edged toward a policy of maintaining close ties with the European Union in what it calls a "jobs first" Brexit. Now the pressure is building on Corbyn, himself a euroskeptic, to join the campaign to give voters a final say over the divorce deal – and thus an opportunity to call the whole thing off.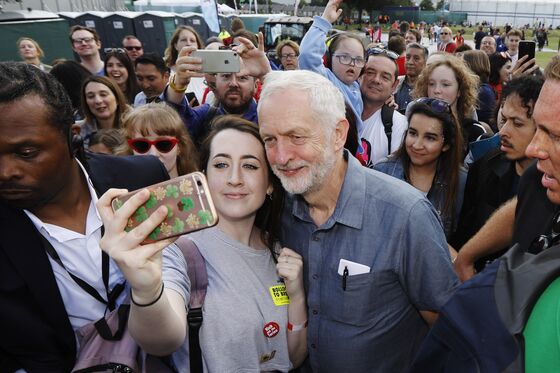 Going into the Unite conference, a YouGov poll of union members showed that 57 percent back a referendum on any divorce agreement. The same proportion said leaving the bloc's single market, currently Labour policy, would be bad for jobs. Just before Corbyn speaks at noon on Tuesday, delegates are expected to vote on a motion calling for such a referendum. If passed, union boss Len McCluskey, a close ally of Corbyn's, has pledged to use "all of the influence and power of oratory that I have" to implement the decision.
It's not just Unite. Demonstrators at a 100,000-strong anti-Brexit march on June 23, the second anniversary of the national vote to leave, chanted "Where's Jeremy Corbyn?" And a petition by members of Momentum, the mass-participation group set up to support the Labour leader, is inching toward enough signatures to trigger a poll of members on whether they too should press for a "people's vote." Senior figures in Momentum want a full debate on Brexit at Labour's party conference in September, the Guardian reports.
Now that Unite and Momentum are involved, it's harder for the leadership to dismiss support for a softer Brexit or a second referendum as simply the work of those associated with former Labour leader Tony Blair. (Blair himself is a major figure in the stop-Brexit campaign.) While there is continued contempt among Corbyn backers for the anti-Brexit lawmakers who quit Corbyn's top team because of his lackluster campaigning in the 2016 referendum, some of their ideas are being taken on.
The Labour Party, with Keir Starmer as Brexit spokesman, now says it wants to stay in a customs union with the EU and have a relationship with the single market that looks like membership in all but name. But the quid pro quo for single-market membership that the EU insists on, free movement of people, is as much an obstacle for Labour as it is for the Tories.
Corbyn, whose speeches typically avoid Brexit as much as possible, pushed back against the idea of a second referendum in television interviews over the weekend. In the event of a bad deal, "we would vote against it and challenge it in Parliament and hope to force a general election on that basis," he told the BBC.
The problem for those seeking a softer divorce is that an election might come too late, depending on how accommodating the EU side is feeling about extending the negotiating timeframe. For Corbyn, a longtime critic of the EU as a capitalist club, that may suit him just fine.
Theresa May is talking to ministers one by one to try to get them on her side before a Cabinet showdown on Friday, Tim Ross reports. But she caught them by surprise with a new compromise proposal on customs, and senior cabinet ministers remain in the dark about the detail. Brexit-backing ministers are seeking assurances it won't undermine a clean split. 
U.K. companies are at "breaking point" over the lack of clarity on Brexit and are slowing down investment, the British Chamber of Commerce says. They have little more clarity on the future of the most important trading relationship than they did two years ago.
German Chancellor Angela Merkel ended a standoff with her Bavarian sister party over immigration, averting the threat of a government breakup. Merkel is seen as a key broker in the final stages of the Brexit process. May is meeting the chancellor in Berlin on Thursday, just before she hauls her Cabinet to the away day. 
Love Business | Brexit Secretary David Davis has invited executives to a summit on July 20 at his country retreat, Sky News reports. It comes as relations between business and the Conservative government have become unusually frosty over Brexit.
Latest Trick | Parliament's Treasury Committee, chaired by anti-Brexit Conservative rebel Nicky Morgan, has asked the Bank of England to publish assessments on the economic impact of Brexit before Parliament votes on the exit deal. The vote, expected toward the end of this year or early next, will be a moment of high drama. Lawmakers must decide whether to back the accord May brings back from Brussels or to try to force the government onto an alternative course.
Unrealistic | A draft of May's White Paper has been dismissed by EU officials as unrealistic, the Guardian reports. It's not clear if the officials have seen the final version, and the newspaper quotes a U.K. government official saying they should wait to see it before responding.
Coming Up | Prime Minister May chairs a Cabinet meeting at 9:30 a.m., Chancellor Philip Hammond takes questions in Parliament at 11:30 a.m. Corbyn addresses Unite conference in Brighton at noon. May meets Dutch Prime Minister Mark Rutte.
On the Markets | The options market shows investors still don't attach a high probability to a complete breakdown in U.K.-EU talks any time soon, Vassilis Karamanis writes. A measure of one-year volatility remains below its year-to-date average as traders brush off the risk.