Brexit Bulletin: How Much Longer?
(Bloomberg) -- Today in Brexit: European leaders were very polite to Theresa May in Brussels last night. But their verdict was clear.
Brexit talks haven't made enough progress to make it worth calling a special Brexit summit next month. Now Prime Minister May is considering a new way to break the Irish border deadlock that is holding up the talks. But it's not without risks at home and still might not be enough to solve the problem.
May addressed European Union leaders last night before they went off for dinner without her, and at least some were left puzzled by her presentation. The consensus was that she hadn't said much that was new.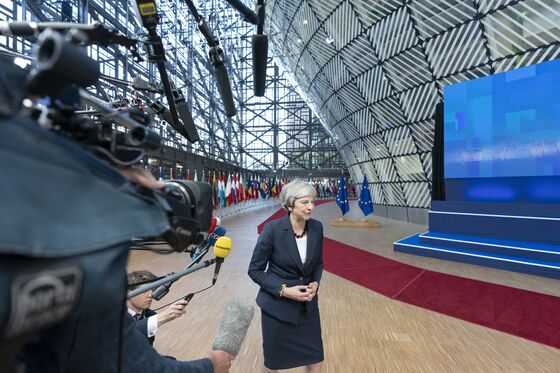 But she is thinking of something quite new, even if she didn't go into much detail. May is considering extending the transition period, which is already due to keep the U.K. bound to EU rules for 21 months after exit day. She sees that as a way of breaking the impasse over the Irish border, Tim Ross and Ian Wishart report.
She signaled her willingness to give ground during talks with fellow EU leaders, according to a person familiar with the situation, and European Parliament President Antonio Tajani confirmed the issue was raised.
She wants to avoid a policed frontier between Northern Ireland and the Republic of Ireland after Brexit, but without erecting new barriers between Northern Ireland and the rest of the U.K. The prime minister has rejected the EU's proposed solution. The EU is trying to help her make it more palatable.
Extending the transition could help as it would make it less likely that the EU's proposed solution would ever have to be invoked.
The move could potentially break the impasse. But it would come at a high political price in London: Many Brexit-backers will see it as a deferral of the true Brexit they long for. The euroskeptic Daily Mail is, well, skeptical, on its front page this morning.
One of the people familiar with the discussions said May's Tory party would find it difficult to be fighting the next general election – due in 2022 – with the U.K. still inside the EU single market and customs union.
And while an extension could potentially help May sell an eventual deal at home, it won't remove the need to accept the most controversial part of the EU's proposal – that if talks on the future relationship break down, Northern Ireland could effectively be split off from the rest of the U.K.
That's probably why chief EU negotiator Michel Barnier reckons talks need "much more time." As French President Emmanuel Macron called for urgency last night, Barnier called for patience, vowing to continue working "calmly and patiently."
November had been touted as a possible date to get a final Brexit deal signed. But a one-off gathering was only ever going to be called if talks made some progress this month. A November summit is still possible, but some diplomats and government officials are now looking at December for the next meaningful rendezvous.
Ask Bloomberg | Did last night's summit leave you with more questions than answers? Then you're in luck – our Brexit reporters and editors will be answering your queries on the Brexit process, the issues in play, and how things could play out in the coming months. There's still time to email us your question, but be quick: We'll close the inbox at 12 p.m. U.K. time today, and publish a selection of answers in tomorrow's Brexit Bulletin.
Meaningful Vote? | Brexit Secretary Dominic Raab upset backbench lawmakers in his own Conservative Party with a letter suggesting that the vote Parliament is given on May's eventual Brexit deal will be a straight choice between that and a no-deal Brexit. "Anything other than a straightforward approval of the deal will bring with it huge uncertainty," Raab wrote. The move angered several Tory backbenchers, and was branded "not acceptable" by Labour's finance spokesman John McDonnell. 
Don't Mess With Moldova | The U.K.'s bid to rejoin a $1.7 trillion public procurement alliance relies on the good will of its European neighbors. Too bad Moldova is holding a grudge. The tiny country wedged between Romania and Ukraine is joining half a dozen nations in blocking the U.K.'s re-entry to the World Trade Organization's Government Procurement Agreement, Bryce Baschuk reports.
Brexit Pounding | The pound could see a "big fall" if the U.K. crashes out in a disruptive Brexit, says Jon Cunliffe, deputy governor of the Bank of England. "At some point when the true Brexit is revealed and the path to it becomes clearer – it's not a single event but it will happen quite clearly – then I'm pretty sure we'll see the exchange rate move," Cunliffe told the House of Commons Treasury Committee.
On the Markets | The pound fell in early post-summit trading on Thursday, hovering around $1.3078 at 7 a.m. in London.
Baiting the DUP | Shadow Chancellor John McDonnell had an incendiary proposal for solving the Irish border issue: unite Ireland. "Oh, what a temptation," he said. "I long for a united Ireland." His comments are a rare piece of good news for May as they spell out once again the risk the Northern Irish Democratic Unionist Party would be taking if they toppled May and triggered a general election.
Want to keep up with Brexit?