Brexit Bulletin: High-Speed Politics
Today in Brexit: Boris Johnson vowed the U.K. would leave the European Union on Oct. 31. A vote in Parliament today may determine whether he can keep his promise.
What's happening? Prime Minister Boris Johnson is giving Parliament only a few days to debate the most important change to Britain's constitution in almost 50 years. His government, thwarted again on Monday in its plan to put Johnson's Brexit deal to a straight vote in the House of Commons, will instead today begin a rapid attempt to pass key implementing legislation in time to leave the EU on Oct. 31. 
By the end of this evening the Commons is scheduled to have voted several times on aspects of the prime minister's plan, giving a clear indication of how the final stages of this lengthy divorce might play out. There are opportunities for Johnson, as well as major potential pitfalls. Bloomberg's Tim Ross and Robert Hutton have the full timetable and details here.
It probably won't be that simple. Lawmakers only got to see the 110 pages of the legislation, known as the Withdrawal Agreement Bill, on Monday evening. It comes with 125 pages of explanatory notes. As Hutton noted last night, there is more to scrutinize than simply reading the documents.
There are two moments to watch today: The first vote, known as the Second Reading, should take place at about 7 p.m. in London. That will give a broad indication of how much support Johnson's plan has. The next vote, called the Program Motion, could be the battle royal.
Lots of MPs want to back the bill and leave the EU, but don't like the idea of rushing the legislation through in double-quick time. Voting down the Program Motion would scupper the government's proposed timetable — and probably ensure the process won't be done in time to leave on Oct. 31. The Institute for Government has a helpful explainer on how it all unfolds.
Expect drama. Johnson could pull or drop support for his own bill if the timetable slips. He could resume his efforts to call a general election. And the EU would be forced to consider approving a delay to Brexit. Johnson grudgingly requested that on Saturday night but prefers to "get Brexit done and move on."
The plan to fast-track Brexit throws up a host of related perils for Johnson, from Scottish nationalism to a new no-deal cliff-edge in 2020, reports Bloomberg's Edward Evans. 
The pound is rising on Brexit news, and this time it looks like the markets have it right, John Authers writes for Bloomberg Opinion.
No matter how the tortuous process of leaving the EU ends, those who supported Brexit as a way of curbing immigration will have to accept that their country will remain economically reliant on foreign workers for decades, writes Bloomberg's Mark Gilbert.                       
How Much? | Chancellor of the Exchequer Sajid Javid was accused of keeping U.K. members of Parliament in the dark after conceding that there will be no impact analysis published by the government. "The dearth of relevant economic analysis on which MPs can decide how to vote is deeply concerning," said Catherine McKinnell, interim chair of the House of Commons Treasury Committee.
Fighting Back | Facebook Inc. will set up a U.K. operations center during the next general election campaign to counter misinformation networks, fake news stories and outside interference. Facebook Vice President of Policy Solutions Richard Allan wrote in the Telegraph that the company is "determined to play our part in protecting elections from interference by making our platform more secure and political advertising more transparent."
Wrong Notes | Musicians are some of the most mobile of all EU citizens, with some 85% of Britain's professionals performing in Europe at least once a year. Their future is now uncertain, deal or no deal. "Freedom of movement is just a golden ticket," British soprano Anna Patalong told Bloomberg's Angelina Rascouet. "But now that that's disappearing, or it looks like it will, we don't even know if that option will be available to us."
On the Markets | Sterling traded near a five-month high on Monday, clinging to the $1.30 mark but failing to break higher as the market awaits clarity from Parliament. It was still close to that mark early this morning, at $1.2978.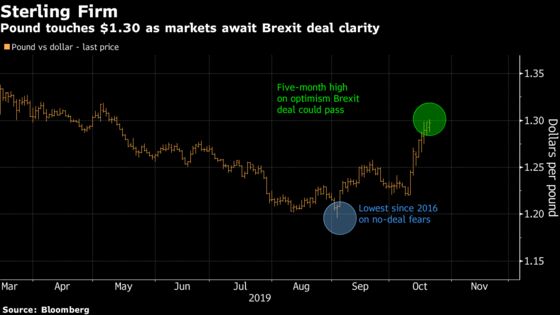 Want to keep up with Brexit?