Brexit Bulletin: Hardball
(Bloomberg) -- Today in Brexit: Things went even worse than expected for Theresa May in Brussels.
Theresa May was clear that she wasn't expecting a breakthrough when she met her European counterparts in Brussels. But the prime minister might have hoped for a more helpful reception than the one she received.
European Union leaders rebuffed May's pleas to help her sell the Brexit agreement to a skeptical U.K. Parliament and even tweaked their draft communique to take out some of the most helpful bits. May had implored her counterparts to "hold nothing in reserve" and help her fix the most toxic part of the Brexit deal — the so-called Irish backstop — so she can win over enough support for it in Parliament.
But instead of giving her what she needs, leaders hardened their approach. And they stepped up planning for a no-deal divorce in what looks as much a message to the U.K. as responsible risk management.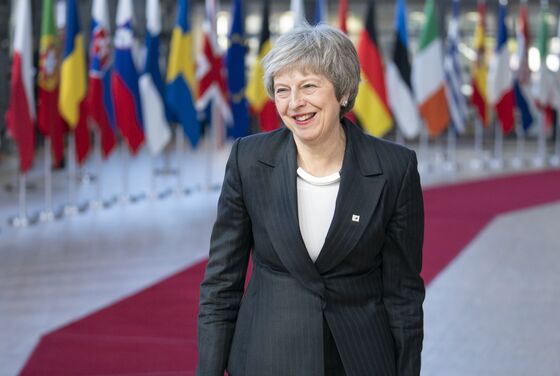 "Theresa May has led a courageous fight but unfortunately we are not seeing the results," European Commission President Jean-Claude Juncker told reporters.
If May can't persuade Parliament to back her plan, Britain will be on course to crash out of the club of 28 countries in just over three months' time, unleashing political and economic chaos. Alternatively, she risks Parliament pushing her to rip up her blueprint, or even into a second referendum.
Three diplomats said May's pitch to the leaders was too vague, and she failed to make them understand what exactly she thinks would work. Unusually for Brexit summits, leaders themselves got involved in redrafting the communique and were even more pessimistic than their officials had been.
"Our U.K. friends need to say what they want instead of asking us to say what we want," Juncker said. "We would like within a few weeks our U.K. friends to set out their expectations for us because this debate is sometimes nebulous and imprecise."
Leaders cut a line in the statement that had offered to "examine whether any further assurance can be provided" on the backstop. Still, they reiterated that they will work to avoid the backstop ever coming into effect and to make sure that if it does it will only be temporary. They also promised to work quickly on the future trade deal.
May's team will focus on the positive messages in the statement. EU leaders have said privately they're not ruling out further talks, according to a person familiar with the British position.
Earlier, diplomats had been working on a proposal to offer May a declaration that would have legal force to ease concerns about the Irish backstop. The idea was to call another summit in January to finalize the declaration. The plan didn't fly, at least for now. But who'd bet against one more crisis summit in January?
How Ireland maneuvered to victory in Brexit talks: Dara Doyle has the inside story. But did they overplay their hand? 
What's the worst that can happen next year? Take a look at our Pessimist's Guide to the World in 2019. Brexit puts in an appearance, but not in the way you might think.
The U.K. and the EU are sleepwalking toward a no-deal Brexit, writes Martin Wolf in the Financial Times. The U.K. and the EU must re-think, he says.
May's Exit | May confirmed to television cameras the pledge she made in private on Wednesday night: She won't lead the party into the next election. Tim Ross argues that this matters because it will influence the way senior Tories approach Brexit and the deal that's now on the table.
"In my heart, I'd love to lead the Conservative Party to the next general election, but I think it's right that the party feels it would prefer to go into that election with a new leader."
No Vote | May's Brexit deal won't go to Parliament for a vote until January, Leader of the House of Commons Andrea Leadsom said. The aim is to hold it as soon as possible after Parliament returns from the holiday on Jan. 7.
Picking Up the Tab | British employers from Heathrow airport to the London School of Economics are hoping to stave off a post-Brexit exodus of lower-level immigrant workers by covering their 65-pound ($81) application fees for permission to stay on.
A View From Germany | The EU has nothing to offer May that will help her get the deal through Parliament. That's the view of Norbert Roettgen, a Merkel ally who chairs the Bundestag foreign affairs committee. "I'm not sure what these reassurances should be. They won't change anything for the treaty text. Reassurances? What should the British be reassured about?" His prediction of what's next? A second referendum.
Betting on an Extension | Betting odds point to Brexit being delayed, according to online betting exchange Smarkets. Odds have shifted decisively against the divorce happening on time in the past 10 days, as political uncertainty has ratcheted up.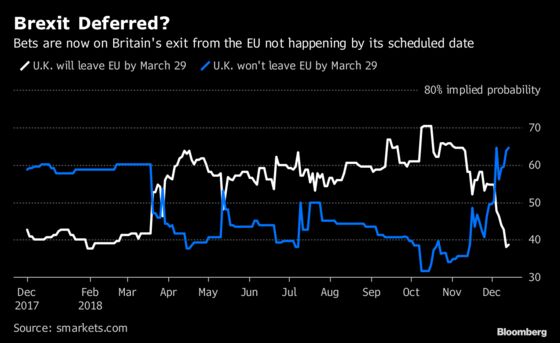 Blair's Call | Former Prime Minister Tony Blair certainly believes the trend. He calls on the U.K. and EU governments today to prepare for an extension and the probability of a second referendum. "Europe should prepare for the possibility now morphing into the near probability that Britain will require an extension of time to the Article 50 process, either to negotiate further or more likely to conduct a new referendum," he will say at a People's Vote event today.
Whips Brace | Tory whips are gearing up for "opposition tactics" next week, and even a revolt by Brexiteers, the Times reports.
All I Want for Christmas | It's been a theme throughout Brexit talks — Britain just needs to say what it wants — and it was dragged out again at this summit. Lithuanian President Dalia Grybauskaite, who's known for daring to say what everyone else is thinking at these events, sums it up:



Want to keep up with Brexit?