Brexit Bulletin: A Step to a Second Referendum
(Bloomberg) -- Today in Brexit: Labour is calling for a vote that could trigger a second referendum. 
Labour leader Jeremy Corbyn is backing a plan that would open the door to a second Brexit referendum. It's the furthest the party has gone towards backing a possible plebiscite that could stop Brexit. It has the potential to throw the whole project into disarray.
But there are still some pretty big obstacles to overcome before Britons are given a chance to change their minds — and the move might just play into Theresa May's hands.
Labour's move is buried deep in an amendment to a government motion that will be debated on Jan. 29. Corbyn, who has long been equivocal on Brexit and the prospect of a new vote, calls for a series of votes on how to avoid an economically disastrous no-deal scenario. One of those options is a second referendum. Because it's proposed by the leader of the opposition, the amendment is almost certain to be picked for a vote.
It's still not clear if Corbyn will throw his weight behind another ballot, and second-referendum campaigners responded cautiously to the announcement.
"This is a huge step forward and shows the Labour leadership's commitment to stop a disastrous no deal exit," said Mike Buckley, director of Labour for a People's Vote. "We still need clarity on Labour's position in a public vote and whether, as members want, we would campaign robustly for our continued membership of the EU."
It's also not clear if there is a majority in Parliament for a re-run of the 2016 referendum. May said yesterday there wasn't (though her track record of judging Parliament's mood has suffered recently.) The prime minister is worried that going back to the people would undermine faith in democracy so badly that it would threaten "social cohesion." There are also some on the Labour side who worry about the fallout if they ask voters to think again. 
And there's also a chance that the move might just help May get her much-loathed deal through Parliament on a second attempt. The deal was thrown out last week as Brexiteers, Remainers, Northern Irish lawmakers and almost the entire opposition voted against it.
But if the prospect of a second referendum becomes real — and polls continue to show to show there's a chance Brexit would be blocked — then pro-Brexit hardliners could decide that May's deal is better than no Brexit at all.
How are the numbers looking for May? Rob Hutton and Alex Morales find things are looking as tight as ever.
A second referendum will be the most "bitter and divisive event in our modern history, complete with unbridled anger, accusations of betrayal, harrowing doubt and distraction," former Tory leader William Hague writes in the Telegraph. But he thinks that's where we're heading.
May moved an inch on Brexit yesterday and is now pursuing a twin-track strategy, writes Jill Rutter of the Institute for Government.
Not Ruling It Out | May was repeatedly asked in Parliament on Monday if she would rule out extending the exit day deadline of March 29. She repeatedly dodged the question.
Don't Delay | The EU is stepping up its efforts to avoid a rupture in financial markets if the U.K. leaves without a deal. The European Commission reminded EU finance ministers on Monday that preparing for a messy divorce is a shared responsibility. The bloc's executive arm has already announced a plan under which banks on the continent will be able to use some financial infrastructure in London even after a no-deal Brexit.
Can't Find the Money | Brexit is making it hard for companies to get sterling-denominated loans, an obstacle for companies that want to buy British assets.
The Hit From No-Deal | The IMF estimated that a no-deal scenario could knock between five and eight percentage points off long-run GDP in Britain. On the basis there will be a deal, it forecast 2019 growth at 1.5 percent, saying the fiscal stimulus announced in the Oct. 29 budget would likely help offset the damping effect of Brexit uncertainty.
Polish Plan | Polish Foreign Minister Jacek Czaputowicz used a meeting of EU foreign ministers in Brussels on Monday to float a new idea to break the impasse over the Irish backstop. He proposed setting a five-year limit on the mechanism and said he discussed it with his Irish and British counterparts. Ireland quickly said no — a time-limit means it's not a proper insurance policy.
Why Poland Cares | Poland has a million of its citizens living in the U.K. and is the biggest net beneficiary of the EU budget. It has set aside a 1.05 billion-zloty ($278 million) buffer in its 2019 fiscal plan to offset the impact a chaotic exit would have on the bloc's budget.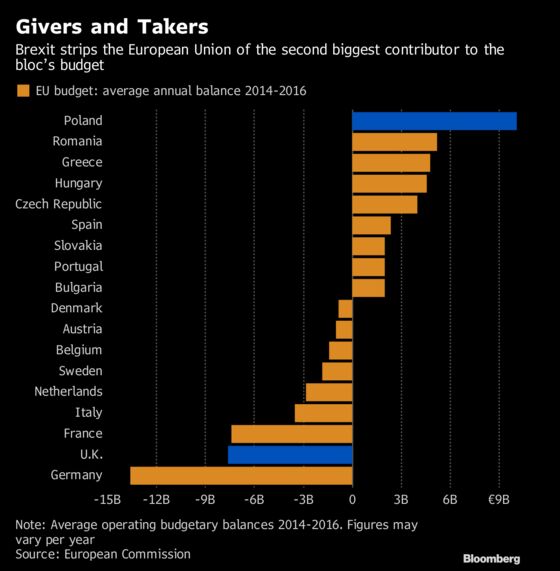 On the Markets | The pound barely reacted to the news that Corbyn was backing a plan for a vote — perhaps because it broke outside U.K. trading hours, or because the prospect of a vote on the second referendum was already priced in. Sterling traded around $1.2875 early on Tuesday.
Want to keep up with Brexit?