Brexit Bulletin: Power Politics
Days to Brexit Deadline: 46
Before the election, ministers trying to win votes on Johnson's Brexit deal agreed to give lawmakers a vote on whether to extend the transition period — the 11 months, starting on Feb. 1, that Britain will get to adjust to life outside the European Union and, crucially, reach a trade deal with the bloc.  
We now know that when the Withdrawal Agreement Bill goes back before MPs on Friday, that concession will be nowhere to be seen. The government now has — in the prime minister's words — a "stonking mandate." Sops to the anti-no-deal brigade are no longer necessary.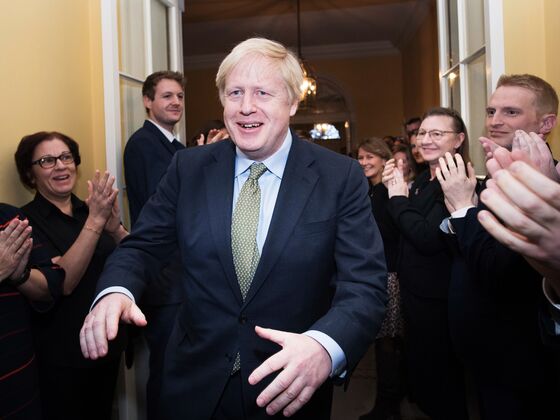 Downing Street's modus operandi hasn't changed, even if the circumstances have. Preparations for a no-deal Brexit will continue as the country hurtles toward another apparently immutable deadline: If Britain doesn't have a trade deal by the end of 2020, it could still crash out of the EU's orbit in what would look very much like a no-deal Brexit. The threat is more realistic now because Parliament won't have a veto.
Even so, Johnson has left himself room for maneuver. He will still be able to extend the transition if a trade deal with the EU is judged to be in sight. We know he can adapt his positions: After all, this is a man who said he would rather "die in a ditch" than delay Brexit.
Flintstorm | Infighting has broken out in Labour before a leadership contest is even properly underway, after defeated former MP Caroline Flint accused the party's foreign affairs spokeswoman, Emily Thornberry, of calling voters "stupid." Thornberry denies making the remark, and said on Monday she's taking legal action against Flint. 
Unlucky Seven | U.K. manufacturing production suffered its worst month in more than seven years in December, increasing the chances that the economy as a whole will contract this quarter. Johnson's decisive victory does remove some near-term concerns, though if Brexit undermines growth it could impact his plans to both increase spending and keep control of the deficit.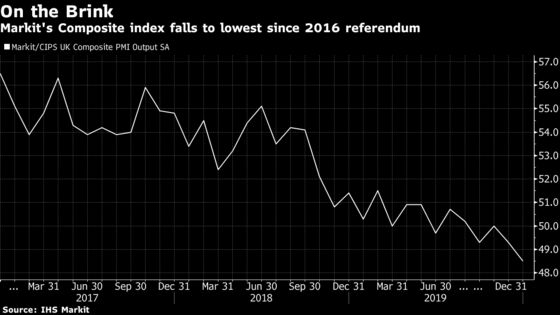 Dismantling | U.K. stocks have been on the rise since the election result became clear, but JPMorgan Chase & Co. thinks the post-landslide rally may be on its last legs. That contradicts the views of several other leading Wall Street banks, which have suggested there is more headroom for stocks. 
Onward and Upwards? | U.K. house prices should rise by 2% next year on the back of Boris Johnson's election win, according to property website operator Rightmove. Home values in London will probably increase by 1%, the first gain since 2016, Rightmove said.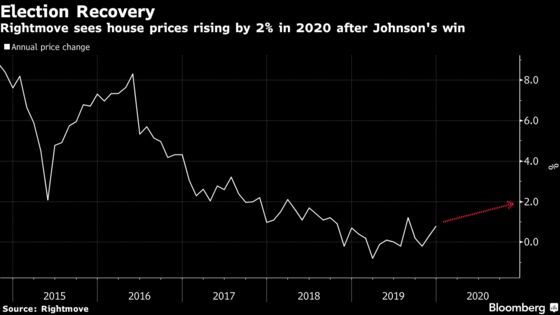 Want to keep up with Brexit?