Cornered at Home, May Heads Into EU Summit Battle Over Brexit
(Bloomberg) -- Theresa May was told the latest Brexit proposals would be thrown out by Parliament in a stark reminder of the constraints on the U.K. prime minister as she heads into a summit to try to break the deadlock.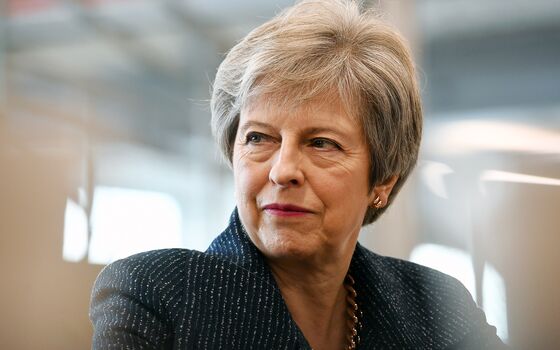 According to three people familiar with the matter, government Chief Whip Julian Smith told her top ministers on Tuesday that the current guarantee to avoid a policed border with Ireland doesn't have enough votes to pass.
May got the briefing from the man in charge of ensuring she has the backing in Parliament for any negotiated deal with the European Union before the U.K. leaves on March 2019. The situation is made all the more dangerous by the fact that her government doesn't have a majority and faces opposition on all sides.
The warning came a day before she heads to Brussels for a summit and needs to convince fellow leaders to show some flexibility on the issue that's stumped negotiators for more than a year.
Her counterparts have long known that the riskiest part of the negotiation would be when she takes the divorce deal back home to lawmakers.
While the chances of getting a deal through Parliament appeared to recede in London, EU President Donald Tusk called on May to come to Brussels with "something creative enough to solve the impasse."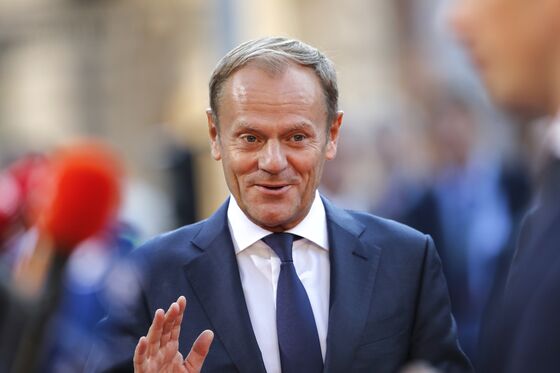 May will meet Tusk for a one-to-one discussion when she arrives on Wednesday, as EU officials continue to try to find ways to make the backstop more palatable. According to a senior British official, negotiators have made real progress in other areas and have a good outline for the future trade partnership.
The problem everyone keeps coming back to is how to keep the Ireland-U.K. border free-flowing for goods trade after Brexit. May's cabinet ministers even discussed the prospect of another meeting soon to plan for the worst-case scenario of a no deal exit, two people said.
May's Cabinet spent two-and-a-half hours locked in her offices discussing that in a clear indication of the scale of the hurdle that needs to be overcome.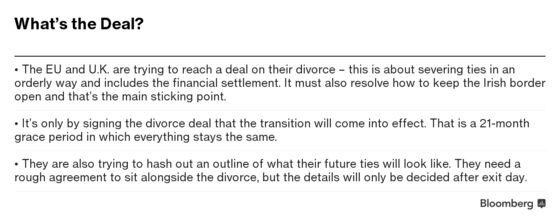 If anything, that meeting hardened British opposition to the EU plans. There was consensus that the European proposals aren't good enough and May's team wants a guarantee that if the whole U.K. stays in the EU customs regime, it will be on a strictly time-limited basis.
British ministers also object to the EU's proposal for a final, fall-back option under which Northern Ireland on its own will remain inside the bloc's customs territory indefinitely, while the rest of the U.K. leaves.
May has said she can never accept that idea because it would put a European customs border inside her country. The chief whip said his calculations showed most members of Parliament agreed.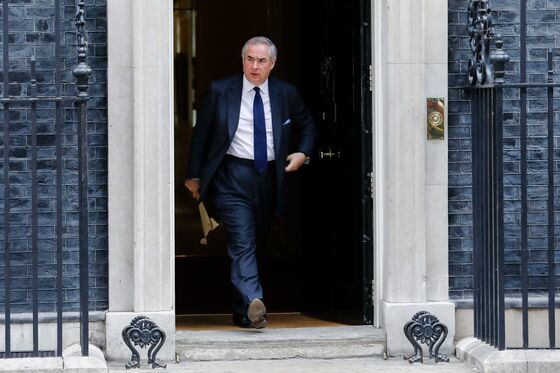 During the meeting, Attorney General Geoffrey Cox also warned of serious legal difficulties with the backstop proposals as they are currently drafted, two of the people familiar said. That was welcomed by pro-Brexit members of May's team, some of whom have been weighing up whether to resign in protest.
For euroskeptics, breaking free from the EU customs regime is a key prize of Brexit. It will enable Britain to set its own tariffs and strike free trade deals around the world.
The other main opposition comes from the Northern Ireland's Democratic Unionist Party, which props up May's government, and says that any deal that treats the region differently to Britain is unacceptable.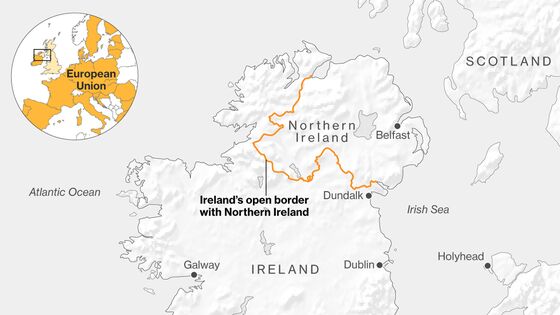 In Brussels, despite a stalemate in the negotiations -- and fundamental differences between the two sides -- EU officials expressed confidence that an agreement is in reach within the next few weeks. Diplomats in Berlin, Paris and Dublin struck a positive note.
A French official said the government expected progress on the Irish border issue and raised the prospect of another summit in early November -- an idea that also did the rounds in other capitals. So far, a Nov. 17-18 weekend summit has been penciled in for a final signing, but the plan is that it won't be confirmed unless some progress is made this week.
European officials increasingly see the U.K. budget, scheduled for Oct. 29, as a milestone and believe a deal-clinching summit could happen at any time.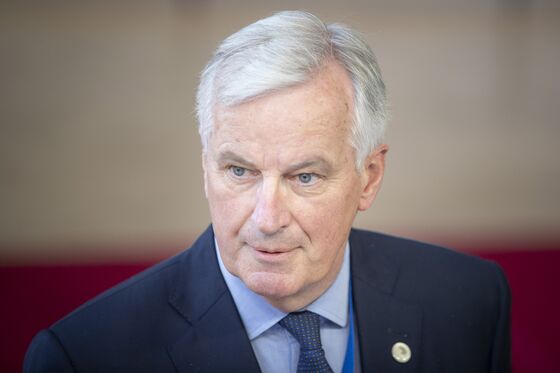 Chief EU negotiator Michel Barnier briefed European ministers on Tuesday and diplomats came away thinking a deal could be reached in early November. Others said it might drag on until December, but said nobody thinks "no deal" is a likely prospect.
With the view from London a bit gloomier, the two sides risk heading into the summit with mismatched expectations.