Brexit and the Path to a Deal: Here's What to Expect in Salzburg
European leaders meet Wednesday in Salzburg at the first of three key Brexit summits marking the path to a divorce deal. The headlines could paint a slightly rosier picture than reality on the state of talks, with leaders looking to try to bolster U.K. Prime Minister Theresa May at home.
Comments will probably be more of an indication of leaders' will to do a deal, rather than evidence of any concrete concessions on either side.
There's already been a gradual shift in tone from chief EU negotiator Michel Barnier, who says an agreement is possible by November. But major hurdles remain, including how to keep the Irish border open after Brexit, and the U.K.'s future relationship with the bloc.
It's unlikely progress will be made on those before what is expected to be a bruising Conservative Party conference, which ends on Oct. 3. EU diplomats think that once May has got through that, she'll be in a stronger position to make the concessions needed to get a deal.
The trouble is that the biggest risk to an orderly exit is that Parliament rejects the deal May brings home -- and the two big unresolved issues are also potentially the two most toxic for U.K. politicians.
What They Say and What They Mean
The two sides are still far apart on what the post-Brexit relationship should look like. May's proposal is a halfway house -- staying close to the EU for trade in goods but going it alone on services. The EU says that won't work because its single market is indivisible, though Barnier has made polite noises about May's proposals.
That's because Brexit is in two parts, and to get the divorce done (and secure the two-year transition period that businesses need) there's no real need to agree in great detail on the future relationship at this stage. A political declaration on future ties will accompany the divorce deal, but it's not binding and is expected to be quite vague. Still, it has to be good enough to satisfy U.K. lawmakers that they aren't getting a raw deal.
EU leaders at Salzburg are going to decide on what that declaration should look like in outline -- that doesn't mean they are going to agree on what the future relationship itself should be.
In recent weeks, the pound has jumped when EU officials have said positive things about May's Brexit plans. But their words are often accompanied by reminders that May's so-called Chequers deal has serious flaws. Barnier has said there are "lots of useful things" in the blueprint and has offered a "a very important, ambitious and unprecedented partnership" with the U.K.
Again, that doesn't mean he's prepared to accept Chequers. It does mean he wants to get the divorce deal done.
EU President Jean-Claude Juncker has also moved markets by appearing to welcome May's Brexit plans, even as he always goes on to say that crucial bits of her proposal won't work. "The U.K. will always be a very close neighbor and partner in political, economic and security terms," he said on Sept. 12, before rejecting key bits of May's plan.
With the pound subject to wild price swings on Brexit news, many investors are betting on volatility rather than the direction of the currency itself. One-month volatility on the pound-dollar pair has fallen in recent days, after spiking to the highest level since February earlier this month.
Once the Conservative Party conference is over, the pressure on the British side will build. The EU wants a draft statement on the future relationship to be ready for the Oct. 18 summit, an official told reporters Tuesday.
Ahead of the meeting, EU ambassadors will meet Oct. 10 to draft the summit's conclusions, and on Oct. 16 ministers will revise the document. That is shaping up to be a key week.
A third summit is expected to be called the week of Nov. 12 to sign off on the deal. A firm date could be set as soon as this week, though it could remain unclear until October.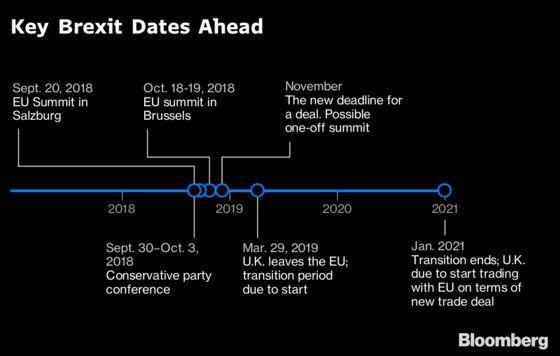 Leaders have dinner Wednesday evening, and will take questions from reporters on the way in at about 6:40 p.m. May is expected to set out her vision, but won't get much in the way of response from her counterparts.
On Thursday, leaders again take reporters' questions on the way into the meeting at about 8:15 a.m. Then at about 1 p.m., the remaining 27 leaders will discuss Brexit without May. She's expected to give a press conference Thursday afternoon.