Brazil on Course to Usher in New Era of Hard-Right Politics
(Bloomberg) -- Brazil looks set to pivot sharply to the right Sunday with the election of a former Army captain who wants to privatize state companies in an ailing economy, liberalize gun ownership and mine the rain forest.
Barring an upset, Jair Bolsonaro, 63, will win the presidency after a divisive campaign that encompassed his stabbing, an onslaught of fake news and the imprisonment on corruption charges of former president Luiz Inacio Lula da Silva, who had been the front-runner. Lula's successor, Fernando Haddad, 55, has largely failed to shake off public anger over his Workers' Party's record of graft.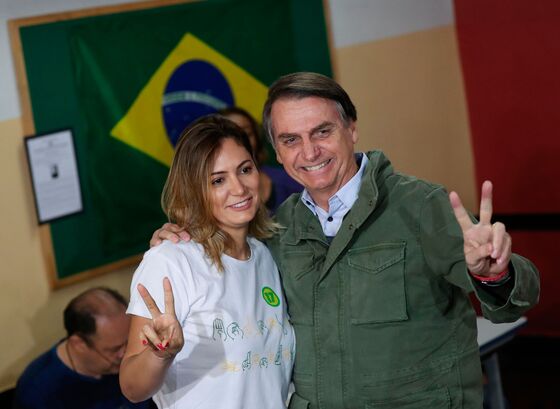 So far, voters appear willing to give Bolsonaro the benefit of the doubt despite a history of skeptical statements about the virtues of Brazilian democracy during seven terms as a lawmaker. Last week, he scolded his son Eduardo, a 34-year-old federal deputy, when a July video surfaced in which he suggested closing the supreme court should judges impede his father's presidency.
Antonio Henrique, a 52-year-old bank employee in Rio de Janeiro, said Sunday that he's voted for the Workers' Party in every election since the 1980s, but crime, revelations of corruption and economic recession have him voting this time for Bolsonaro instead.
"Security is a serious problem," he said. "We can't even leave home."
Support for Bolsonaro dipped in recent polls but he has kept a commanding lead in surveys by MDA and Datafolha released on the eve of Sunday's runoff. He had 55 percent of support, against 45 percent for Haddad, according to Datafolha.
As Bolsonaro voted in Rio de Janeiro early Sunday, the former Army captain said his expectations were high: "What I've seen in the streets during the past few months: victory."
Haddad touted his recent rise in the polls after casting his ballot in Sao Paulo, saying that "Brazil woke up" in the past few days.
Investors have ignored Bolsonaro's authoritarian streak and bet he'll deliver on his pro-market stance: Brazilian assets have surged with his rise. On Friday, the benchmark Ibovespa index defied a slump in global assets to rise as much as 1.2 percent. The real was up as much as 1 percent, leading gains in major currencies.
Haddad, by contrast, alarms money managers who fear a return to the statist, free-spending policies of the Workers' Party. In the past few days, he has promised voters subsidized cooking gas and a 20 percent increase in some government benefits.
For Paula Rito, a 34-year-old stylist who's nine months pregnant, Bolsonaro's demeaning comments about women and all they represent are too much to swallow, especially as she thinks of her unborn daughter.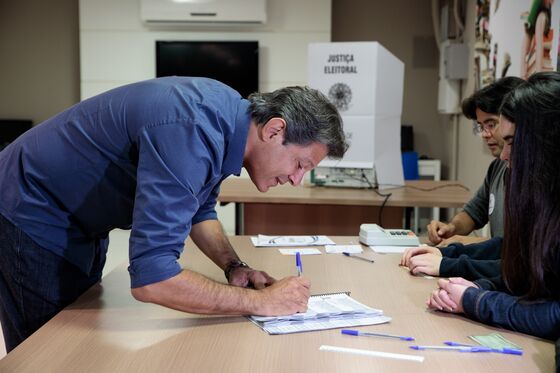 "This country is so macho, it wouldn't make much of a difference for a son. But it does for a daughter."
More than 147 million voters have from 8 a.m. until 5 p.m. local time to cast ballots. More than 550,000 electronic voting machines are in operation across the fifth-largest country, from tiny hamlets deep in the Amazon to the sprawling megalopolis of Sao Paulo.
While a victory appears all but assured, Bolsonaro's margin will be an early indicator of his strength in dealing with Brazil's congress and the Supreme Court. Despite his allies' strong showing in Oct. 7 congressional elections, the legislature remains divided among 30 parties. Bringing them into line won't be easy.
"A comfortable win would make all the difference," said Lucas de Aragao, a partner at Brasilia-based political consultancy Arko Advice, adding that it would give Bolsonaro "greater confidence negotiating with congress and more legitimacy in choosing his cabinet."
Bolsonaro's commitment to liberalize the economy is both recent and decidedly vague -- as well as dependent on both congress and his politically inexperienced future finance minister, Paulo Guedes.
"So far, Bolsonaro hasn't said much about what he wants," said Andre Perfeito, an economist at Spinelli, a brokerage. "He hasn't given any details of what he wants to privatize or what kind of pension reform he wants to do. The market has put words in his mouth."