Brazil Carwash Judge to Be Bolsonaro's Anti-Corruption Czar
(Bloomberg) -- The lead judge in a sweeping anti-corruption campaign that toppled some of Brazil's top politicians and business executives will become President-elect Jair Bolsonaro's justice minister.
Federal Judge Sergio Moro, who earned international fame for leading the investigation known as Operation Carwash, is now to institutionalize the battle against graft and violence as a minister charged with justice and public security. "The prospect of implementing strong policies against corruption and organized crime, while respecting the constitution, the law and rights, brought me to reach this decision," Moro wrote in a statement.
Enlisting Moro, 46, is a political victory for Bolsonaro in the early days of forming his government. Tackling the rich and powerful has made Moro a national hero and even triggered calls for him to run for the country's top job. From his home in Curitiba to Bolsonaro's house in Rio de Janeiro, Moro on Thursday was tracked the entire way by selfie-snapping fans. While his pick will delight supporters, the appointment could tarnish the legacy of Operation Carwash and fuel accusations Moro was politically motivated.
"Politically, Bolsonaro scored a touchdown. Moro made a risky choice," Thiago de Aragao, a partner at Arko Advice, wrote on his Twitter account, noting that many will try to discredit the Carwash probe because of his decision to take the cabinet post. "His super powers will be put to the test."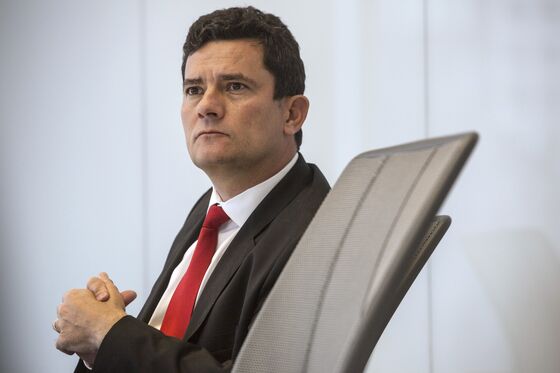 The benefits for Bolsonaro are obvious -- tapping a law-and-order hero is a safe bet to boost support from his conservative base and beyond, and Moro's credibility could help his nascent administration attract more talent to top posts.
"The president-elect hit a home-run by bringing onto his team someone with the undisputed popularity and the type of honesty that Sergio Moro has," analysts at investment bank XP wrote in a research note.
Indeed, after exiting a meeting with Bolsonaro in Rio de Janeiro on Thursday morning, Moro was about to address reporters but the throngs of supporters blowing horns, shouting his name and pushing for a closer look appeared to overwhelm the judge. He quickly hopped into the back seat of a black SUV as security personnel cleared a path through the crowd which braved the muggy weather to catch a glance of the judge.
Still, for senior figures in the Workers' Party, Moro has repeatedly singled out leftwing politicians for punishment, even though corruption allegations have been widespread across the political spectrum. It was Moro who sentenced former head of state Luiz Inacio Lula da Silva to 12 years in jail for corruption and money-laundering, a ruling that effectively barred him from this year's presidential election.
The judge's decision to release damning plea-bargain testimony about illicit payments to previous party election campaigns just days before the first round presidential vote in October also angered many on the left.
Bolsonaro's pledges to combat corruption played a central role in his successful election campaign, and he sought to identify himself with Moro in TV and radio ads. With corruption scandals dominating the nightly news for years, a survey in June this year by pollster Datafolha found graft was Brazilians' chief concern, along with health care.