Brazilian Assets Soar as Bolsonaro Starts to Deliver on Promises
(Bloomberg) -- Brazil's benchmark stock index closed at a record high at the end of Jair Bolsonaro's first day in office, as the new president delivered on key campaign pledges while his economy minister vowed a sweeping overhaul of the state.
The president granted the Agriculture Ministry the power to create new indigenous reserves, stripping the National Indian Foundation, known as Funai, of its key function. The ministry will also control the forestry service that registers rural property as part of an effort to prevent deforestation. Another presidential order removed LGBT issues from consideration by the Human Rights Ministry.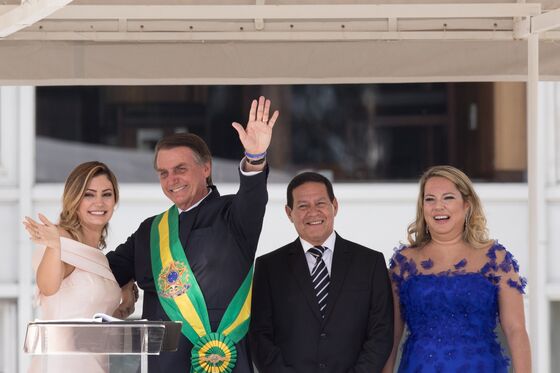 Elected to office on a platform of social conservatism and economic liberalism, Bolsonaro's first acts in office backed up his commitment to free Brazil of an overbearing state. Paulo Guedes, his economy minister, outlined how the new administration will slim down government by slashing pension spending, selling state assets and simplifying a complex tax system. Renewed optimism that the government will be able to implement pro-market measures drove the real to lead global gains among currencies on Wednesday.
Brazil's cabinet will meet for the first time Thursday, with Bolsonaro and Guedes expected to move quickly on their reform program. Investors are particularly interested in any hints that his government will try to move quickly in Congress with a shake-up of the social security system after former President Michel Temer failed to get support for the bill.
About 30 percent of Brazil's territory is protected for either conservation or indigenous groups, about half of which is in the Amazon, according to Embrapa, a government-run agricultural research organization. Indigenous lands comprise some 12 percent of Brazil's territory, according to Funai.
Bolsonaro has long criticized these reserves, saying that they force indigenous people to live like animals while halting economic development of the hinterland.
"Less than a million people actually live in these isolated places of Brazil, which are exploited and manipulated by non-governmental organizations," Bolsonaro said Wednesday on Twitter. "We are going to integrate these citizens and respect all Brazilians."
Bolsonaro's shake-up aims at fulfilling campaign pledges to support farmers, who complain they're suffocated by over-regulation and fines. Environmentalists say the changes will open the floodgates to rapid and irreversible encroachment on the Amazon for farming.
In a speech at his swearing-in ceremony in Brasilia on Wednesday, Guedes promised a sweeping overhaul of the country's state apparatus and business environment to unleash corporate potential and free future generations from debt.
"Private-sector pirates, corrupt bureaucrats and creatures from the political swamp have conspired against the Brazilian people," he said. "Excessive spending has corrupted Brazil."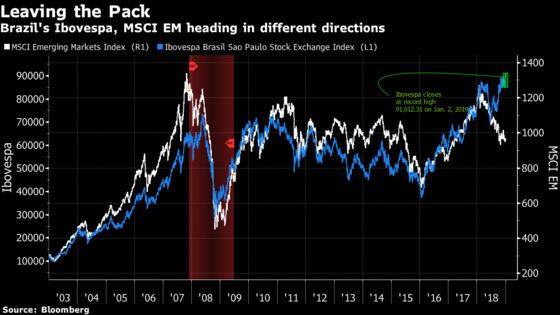 Bolsonaro has tapped Guedes, a graduate of the University of Chicago, to manage economic policy in a country hamstrung by rising debt, a gaping fiscal deficit and slow growth. Bolsonaro won the October election by a wide margin as part of a popular backlash against crime, corruption and economic malaise.
In his comments Wednesday, Guedes highlighted the urgency of the task ahead. "Our business class is chained down by interest rates, high taxes and labor costs," he said, adding that he believed the ideal tax burden would be around 20 percent of gross domestic product, rather than the current rate of 36 percent.
Earlier in the day, the new energy minister, Bento Albuquerque, said Brazil would deliver on plans to capitalize Eletrobras, prompting shares in the state-run company to jump as much as 9.7 percent. He added that he would seek a lower tax burden and few subsidies in the electricity sector.
At his inauguration ceremony, Brazil's new foreign minister, Ernesto Araujo, once more highlighted the differences between this administration and previous ones. In a speech full of religious references, Araujo expressed admiration for the governments of Israel, the U.S, Hungary and Poland, and said Brazil would no longer seek permission of the global order to act.
"We are not here to work for the global order," he said. "This is Brazil, and I am not afraid of being Brazilian."