Brazil's Women's Movement Is Stung by Election Results
(Bloomberg) -- For the millions of Brazilian women pushing to advance equal rights and representation, Sunday's elections were a flop. Not only did the presidential candidate who was targeted by the #NotHim movement for his vulgar, sexist remarks post a resounding first-round victory, but fewer women were elected to Congress than hoped.
Female representation in the Senate remained flat at just 12 of 81 seats. In the lower house the numbers were a bit better: Women took 15 percent of seats, up from 10 percent in 2014. But three states -- Amazonas, Maranhao and Sergipe -- didn't elect a single female lawmaker among them. What's more, that 15 percent figure still pales in comparison to the 40 percent representation that women have in Argentina's Congress and the 50 percent they have in Mexico.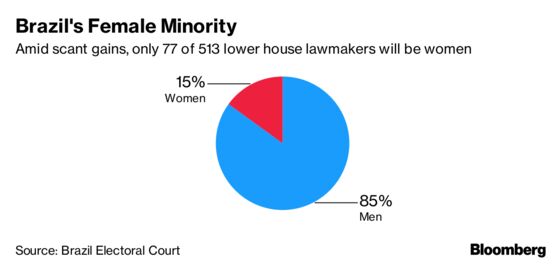 Local media highlighted the fact that it is the largest female representation ever in the Lower House. Yet considering women make up 52 percent of the population and given recent, more progressive legislation to promote them in politics, those numbers are disappointing, says Deysi Cioccari, a political scientist at the Catholic University of Sao Paulo.
"Fifteen percent is very little, and can't be seen as a victory," said Cioccari. "We're still far away from what can be considered as an egalitarian Congress."