Brazil Unemployment Jumps to Record With Millions Seeking Work
(Bloomberg) -- Brazil's jobless rate rose to an all-time high as an increase in the number of people seeking employment strains an already weak labor market.
Unemployment rose to 14.6% in the three months through September, below the 14.8% median estimate from analysts in a Bloomberg survey. Roughly 1.3 million more people were actively seeking jobs in the third quarter compared with the second, the national statistics agency reported on Friday.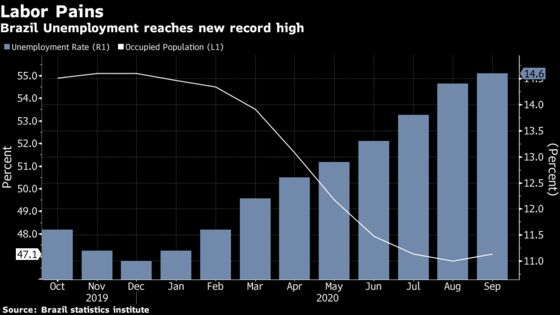 Reductions in social distancing measures are encouraging workers to seek positions as Latin America's largest economy starts to recover. Establishments such as bars and restaurants have fired employees as the services sector reels amid weak demand. Many of them were supported by cash handouts, but the government is now under pressure to pare back emergency spending due to rising public debt.
"There was more pressure on the labor market in the third quarter," said Adriana Beringuy, an analyst at the statistics agency. With the relaxation of social distancing measures, "we started to see more people seeking work."
The number of employed workers fell to an all-time low of 82.5 million people, according to the statistics agency. Meanwhile, the number of unemployed workers rose 10.1% compared to the second quarter of the year, reaching 14.1 million.
Some sectors are faring better than others. Brazil's government reported on Thursday that the economy added nearly 395,000 formal posts in October after over 313,000 such positions were added the month prior.
Earlier in November, Economy Minister Paulo Guedes said Brazil will continue to create jobs through the end of the year. A few days later, Amazon.com Inc. said it will open three new distribution centers in Brazil that together will create 1,500 direct positions.