Brazil's 2022 Budget Fails to Dispel Fiscal Uncertainty
(Bloomberg) -- The 2022 budget proposal that President Jair Bolsonaro submitted to congress did little to dispel investor concerns about growing pressures for more public spending in an election year.
The plan, detailed by Finance Secretary Bruno Funchal Tuesday, foresees a major reduction in the primary deficit to 0.5% of GDP, or 49.6 billion reais ($9.6 billion.) That's well below the 170.5 billion reais initially expected, and less than a third of what economists are forecasting for this year.
But the proposal fails to address some of the most pressing fiscal concerns needling Latin America's largest economy. There's no explanation on how the administration will pay for a revamped cash transfer program that Bolsonaro wants to launch before his re-election campaign -- the budget just allocates the same amount used for the existing Bolsa Familia this year. The guidelines also don't explain how the government will fund the 89 billion reais it has to make in court-mandated payments next year.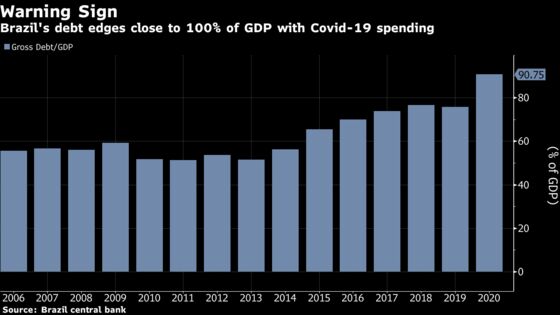 Investors have been growing nervous about Brazil's finances as the government struggles to reimpose austerity measures to balance the budget after massive spending during the pandemic. Fiscal concerns have weighed on the local currency and complicated policy makers' efforts to bring inflation back to target.
BRAZIL REACT: Unrealistic Budget Ignores Fiscal Uncertainties
One of Bolsonaro's main challenges is to overhaul the cash transfer program known as Bolsa Familia ahead of general elections next year. Economy Minister Paulo Guedes has yet to approve in congress a solution to expand it without breaking a rule that limits the growth of public expenditure to inflation. It won't be an easy task: financing for the new program depends on the passing of a tax reform that's currently stuck in the legislature.
With no quick solution in sight, political advisers to the president are trying to convince him to launch a new round of Covid cash handouts this year, according to five officials familiar with the matter.  
At an on-line press conference after the budget's release, Funchal dismissed talk of a new round of aid, saying Brazil has no fiscal room to do so.
Precatorios, payments ordered by the top court in cases lost by the federal government, also remain an issue. At 89 billion reais for next year, Guedes has described them as a "meteor" hitting the budget. 
The minister is still trying to negotiate a solution involving the top court to dilute those payments during as many as 10 years without congress approval.
If he fails, the government will then need to convince lawmakers to approve a proposal to pay "precatorios" in 10 years or even to remove them from the spending cap rule, arguing they are unpredictable by nature.