Brazil's VP Tells President's Sons to Wash Dirty Laundry at Home
(Bloomberg) -- Brazil's vice president has a piece of advice for the sons of President Jair Bolsonaro: stop washing dirty laundry in public.
Hamilton Mourao's admonition comes as a cabinet crisis jolts the government just when Bolsonaro needs to show unity to approve tough economic reforms. The rift in his inner circle started when Gustavo Bebianno, the secretary general of the presidency and former president of the ruling PSL party, was accused of misusing campaign funds. It escalated when one of the president's sons called Bebianno a liar.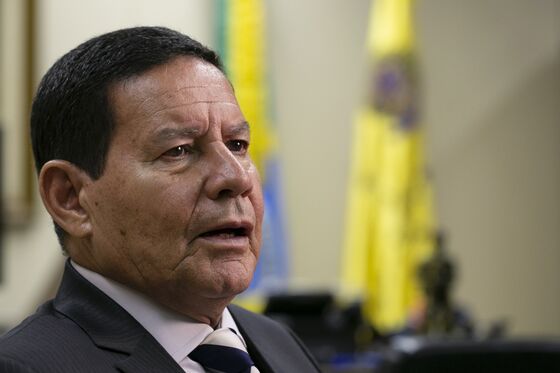 The crisis is in part due to a "certain protagonism by the president's son who, trying to defend his father, took the debate public on social networks, which is not good," Mourao said in an interview at his office in Brasilia. "The old saying goes that dirty laundry you wash at home."
The scandal, the second involving one of Bolsonaro's sons this year, is the latest sign of growing rivalries within the president's inner circle and comes at an inopportune time. The administration next week will send to Congress a proposal to cut pension benefits that investors say could make or break both the country's economic health and Bolsonaro's political future. The government needs every vote from the PSL, which has come to rival the opposition PT party as the largest in the lower house, according to the chamber's website.
Like several of Bolsonaro's key aides, Mourao has little experience in politics. Yet the 65-year-old four star Army general is seen by many as a moderating force who is open to dialogue and less dogmatic than the president on issues like gay rights and foreign relations. So much so that Olavo de Carvalho, perhaps the most influential of Bolsonaro's policy gurus and advisers, has accused Mourao of being a "traitor."
"The most difficult part of the job is dealing with all the nuances, the internal and external pressure," said Mourao. Disciplined, the general gets up at 5:15 a.m. every day to run 6 kilometers before starting an agenda that easily stretches for 10 hours. Before getting into politics, he was a military attache in Venezuela and commanded United Nations peacekeeping forces in Angola.
While Bolsonaro has yet to decide whether to dismiss Bebianno over the scandal, the political noise and infighting will soon stop, said Mourao. In a statement to the press late on Thursday, Bebianno denied wrongdoing.
"The president has taken on this fight and all this intrigue will come to an end."