U.S. Bond Buying Makes Brazil a Top Contender Beyond World Cup
(Bloomberg) -- China will surely grab headlines after the U.S. government releases fresh figures on foreign debt ownership Friday, but it's worth keeping an eye on a nation whose fortunes in the World Cup are as much a focus for traders as anything else: Brazil.
The country's holdings of U.S. bonds, bills and notes climbed by $29.2 billion in the first three months of 2018, the biggest increase of any nation, reaching a record high $286 billion in March, data from the Washington-based Treasury Department show. That's more than the combined total for U.K. and India, the next biggest net buyers, while America's largest foreign creditor, China, added just $2.8 billion to its hoard over the same period.
Brazil, whose national team is currently the bookmakers' favorite for the World Cup tournament in Russia, may see a continuation of the upward trend in its Treasury holdings, with its dollar-heavy stockpile of foreign reserves growing by nearly $3 billion in April and May. The U.S. Treasury is due to publish figures at 4 p.m. in Washington on holdings for April, a period that saw the benchmark Treasury yield rise more than 21 basis points en route to a multi-year peak above 3.1 percent the following month.
"Given the rise in yields, that could suggest increased appetite for U.S. Treasuries" by Brazilian investors, said Mauricio Oreng, a strategist at Rabobank in Sao Paulo.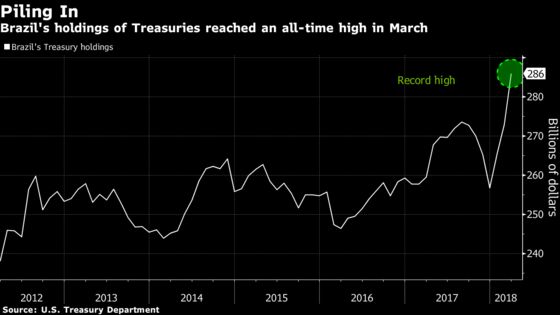 Concerns about dollar strength may also be boosting Brazilian demand for U.S. debt as a partial hedge against the greenback's rally, according to NCH Capital's James Gulbrandsen. Brazil's real has crumbled almost 13 percent against the dollar in 2018 amid pessimism about the domestic economy and political uncertainty ahead of October's presidential election.
Emerging-market currencies "were being hit fairly hard in February and March," said Rio de Janeiro-based Gulbrandsen, who helps oversee $3.5 billion. "They may have gotten somewhat concerned that it was coming to Brazil."