Brazil's Next Voter Poll Will Show If Market Rally Has Legs
(Bloomberg) -- Brazil investors cheering the results of Sunday's presidential vote may get an indication as soon as Wednesday about how long the euphoria will last.
That's when Datafolha is scheduled to release the next poll gauging voters' intentions before the Oct. 28 runoff ballot between Fernando Haddad and Jair Bolsonaro. While Haddad, of the left-wing Workers' Party, had been leading the head-to-head contest in earlier surveys, the right-wing Bolsonaro has been gaining momentum in recent weeks.
Any poll showing Bolsonaro taking a big lead would be bullish for markets. Investors sent stocks, the real and bonds soaring Monday after the former army captain fared better-than-expected in the first-round vote. Traders see him as most likely to revive Brazil's economy after its deepest recession in a century, and dread a return for the Workers' Party, who they blame for policies that helped cost the country its investment-grade credit rating.
While Bolsonaro seems to have more energy behind his candidacy, a come-from-behind victory for Haddad is still a possibility that investors need to take seriously, according to Bertrand Delgado, a strategist at Societe Generale. He predicts volatility will stay elevated through the rest of the month.
"It is too early to rule out Haddad," Delgado wrote in a report Monday. "The presidential race promises to be a tight one."
The Ibovespa stock gauge entered a bull market Monday as it surged 4.6 percent for its biggest gain in more than two years, while the real's almost 2 percent jump left it at a two-month high. Gains were extended on Tuesday, with the real leading advances among major peers. Brazilian sovereign dollar bonds due 2028 rallied, sending yields down 17 basis points to 5.54 percent.
Electoral results showed Bolsonaro got 46 percent support in the first round, short of the majority needed to win outright, but higher than polls had him at and well ahead of Haddad's 29.3 percent.
Bolsonaro has been relatively quiet about his specific economic agenda even as analysts urge measures to shore up the budget such as overhauling the national pension system. Investors have been encouraged by comments from his economic adviser, who often makes statements in favor of privatizing state-controlled companies and other such policies.
"A rally is likely to be sustained in the sense that Brazil should outperform the rest of emerging markets," said Jim Barrineau, the head of emerging market debt at Schroders in New York. "His economic adviser is extremely market friendly, but Brazilian governability in general is difficult given the historically fractured nature of Congress."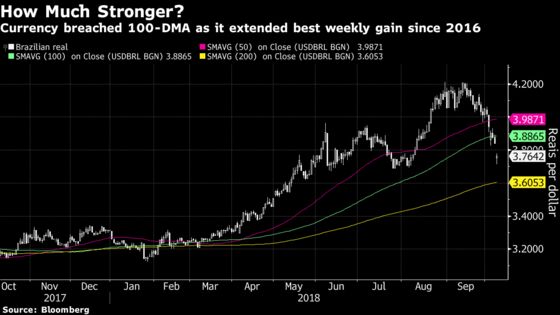 The impressive showing for Bolsonaro is prompting some investors to almost price out the risk of a leftist return to power. Citigroup forecasts the Brazilian real will rally to 3.55 per dollar after the runoff. JPMorgan upgraded the currency and local rates to overweight and said it sees value across Brazilian stocks. Bank of America also raised Brazil shares Monday.
Others aren't as convinced, and warn of a reversal if Haddad appears ahead in polls until the Oct. 28 runoff. The former Sao Paulo mayor is reportedly in talks with some of the other candidates who didn't fare as well in the first round to form alliances and could win support that way. Haddad has criticized the spending cap adopted by the current administration, adding to comments that have worried investors about Brazil's fiscal path.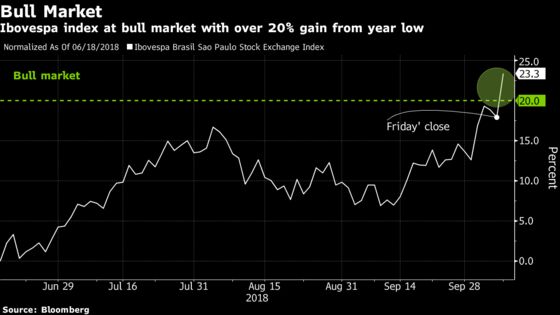 Per Hammarlund, the chief emerging market strategist at SEB SA in Stockholm, says the Brazilian real looks like a good buy now, but overall he prefers to play safe in Brazil.
"Yes, the rally has legs, but it is unlikely to last for more than six to nine months," Hammarlund said. "The next administration will have to take very tough decisions to cut social benefits, especially pensions, reduce red tape and boost government revenue."