Brazil Assets Climb After Bolsonaro Renews Pledge to Fix Economy
(Bloomberg) -- Jair Bolsonaro said the words investors wanted to hear.
Brazil's next president pledged to trim the deficit, pay down debt and reduce the size of government after results showed him cruising to victory over Fernando Haddad of the left-wing Workers' Party. That helped Brazilian assets extend gains Monday. While many securities were off the highs they reached in early trading, the currency strengthened 0.2 percent and the Ibovespa index added 1 percent after reaching an intraday record. State-controlled oil producer Petroleo Brasileiro SA added 1.2 percent, and sovereign bonds climbed.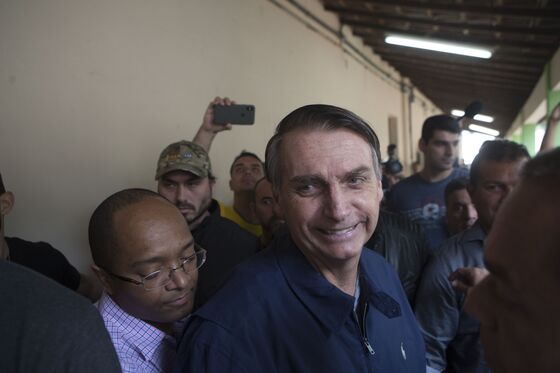 Brazilian assets are the world's best performers since polls in mid-September showed the conservative lawmaker and former army captain ascending in polls. The comments from Bolsonaro should tamp down on any skepticism that he wasn't fully committed to pension and tax overhauls -- which lingered since the candidate himself often professed an ignorance when it came to economics -- pleasing investors who had abandoned Latin America's largest economy over the past several years as fiscal accounts deteriorated.
"Bolsonaro landed a landslide victory promising Brazil a better future after years of economic downturn and corruption scandals," said Bernd Berg, a macro and foreign-exchange strategist at Woodman Asset Management in Zug, Switzerland. "I am confident Bolsonaro is going to deliver much needed reforms."
| Asset | Percentage Change |
| --- | --- |
| Brazil's real | + 0.2 |
| Ibovespa             | + 1 |
| Petrobras  | + 1.2 |
| Vale  | - 2 |
| iShares MSCI Brazil ETF      | + 2.4 |
| BRAZIL 4 ⅝ 01/13/28 | + 0.6 |
| PETBRA 5.999 01/27/28 | + 0.9 |
He sees the Ibovespa stock index soaring more than 50 percent to 130,000 by the middle of next year, and predicts the real will climb 21 percent in the same span to 3 per dollar.
He's not alone in the optimism. UBS Group AG, after months of skepticism on Brazil's stocks, is now telling investors that under the right circumstances the Ibovespa could rally almost 40 percent over just the next two months. Banco Bradesco SA and Citigroup Inc. have both predicted surges, and investors from Schroders Plc to NCH Capital are adding to their Brazilian holdings.
The Ibovespa has surged 34 percent in dollar terms over the past six weeks, with the real jumping 16 percent, both posting the best performances globally.
"We will break the vicious cycle of growing debt," Bolsonaro said in his victory speech. "Substitute it with the virtuous cycle of smaller deficits, falling debt and lower interest rates."
Part of investors' giddiness is simply that the Workers' Party, known as the PT for its initials in Portuguese, won't be returning to power. Much of the business community blames Brazil's leftest politicians for corruption and years of economic mismanagement, culminating in the country's worse recession in a century and the loss of its investment-grade credit rating.
"All of us feel an immense amount of relief that we don't have to deal with the PT for the next four years, so it's natural that markets will continue to buy Brazilian assets," said James Gulbrandsen, the chief investment officer at NCH Capital in Rio de Janeiro, which has $3 billion of assets under management. "We are now focused on the progress of reforms."
The top priority for most investors is an overhaul of the pension system, which is broadly seen as too expensive to sustain. Changes such as setting a minimum retirement age could go a long way to shoring up fiscal accounts, though they're likely to meet some resistance among Brazilians who don't want to give up benefits they believe they're entitled to.
"It was an expressive win," said Christopher Garman, the director for the Americas as the political consulting organization Eurasia Group. "But Bolsonaro will have a big challenge ahead. His honeymoon won't last long, and he'll have to push through difficult reforms."
Bolsonaro got 55 percent of the vote to Haddad's 45 percent with almost all votes counted.
Read more: Brazil Swings Right With Jair Bolsonaro's Commanding Victory
Bolsonaro focused much of his campaign on a tough-on-crime pledge that some observers saw as having racial overtones, and his disparaging comments about women and homosexuals have contributed to a high rejection rate among Brazilians -- about 45 percent. Adding to his potential difficulties when he takes office Jan. 1 in a fractious congress with more than a dozen political parties also seeking to prioritize their pet projects.
In his victory speech, Bolsonaro pledged to heal divisions and govern for all Brazilians.
"We are all a single nation, a democratic nation," he said. "I will guide a government that defends and protects the rights of the citizens that fulfills its duties and respects its citizens."
For now, investors are giving him the benefit of the doubt and cheering on his pledges to fortify the economy.
"The local scenario should be extremely positive for earnings growth and for the Brazilian equity market generally," Frederico Sampaio, the chief investment officer at Franklin Templeton Emerging Markets Equity Brazil, wrote in a note. "There should be a more positive climate where consumer and business confidence can pick up again."