Brazil's Far-Right Candidate Receives a Boost in Latest Poll
(Bloomberg) -- Brazil's far-right presidential candidate Jair Bolsonaro received a significant boost in the latest opinion poll published just days ahead of Sunday's general elections.
The former Army captain rose four points to 31 percent in the Ibope survey released Monday evening, compared with 27 percent in the last poll Sept. 26. His nearest rival, Fernando Haddad, from the left-wing Workers' Party, remained at 21 percent. In a second-round scenario the two candidates were tied at 42 percent.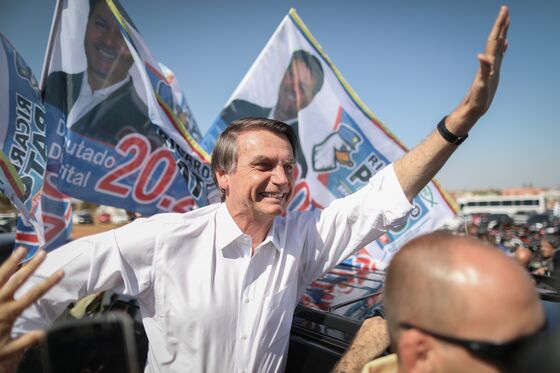 If none of the 13 candidates running for the presidency win an outright majority of valid votes Oct. 7, the two leaders will go to a runoff Oct. 28. The contest looks almost certain to pit Bolsonaro against Haddad. Over the past weekend, tens of thousands of Brazilians took part in rival demonstrations across the country both for and against Bolsonaro, who has attracted both devoted support and implacable hostility with his incendiary rhetoric and nostalgia for military rule.
The polls may be underestimating the support Bolsonaro is likely to receive from voters who are furious with Haddad's Workers' Party, which ruled Brazil for 13 years until 2016, Eurasia consultancy said in a note to clients.
"Abstention rates, which are concentrated in lower-income and less-educated voters who back the Workers' Party, can rise," Eurasia said, adding that Bolsonaro's base is more likely to vote.
The Ibope survey of 3,010 people was conducted in 208 municipalities on Sept. 29-30 and has a margin of error of plus or minus 2 percentage points.
The Ibope poll -- BR08650/2018 -- showed Bolsonaro still has the highest rejection rating of any candidate, at 44 percent, but the survey also highlighted a surge in opposition to Haddad, who saw his rejection rating rise from 27 percent to 38 percent.
Ibope said in an email to Bloomberg News that this year it is not working for any of the presidential candidates.