Brazil's Far-Right Candidate Jair Bolsonaro Is Having a Bad Day
(Bloomberg) -- An opinion poll showing Brazil's far-right presidential candidate Jair Bolsonaro with a commanding lead over his rival ahead of a run-off vote overturned what had been a difficult day for the former paratrooper.
Bolsonaro opened up a 16-point lead over his rival, Workers' Party candidate Fernando Haddad, in a Datafolha poll published on Wednesday evening, with 58 percent of vote intentions versus 42 percent. The numbers provided a huge boost for the ex-Army captain after prosecutors announced a probe into a key adviser and Brazilian assets slumped, partly due to Bolsonaro's lukewarm comments on privatization and pension reform.
The real and Bovespa had surged after Bolsonaro performed strongly in the first round vote on Sunday, but both sank on Wednesday as investors chewed over an interview he gave to local media. In it he nixed the chances of getting pension reform approved this year and limited the scope of privatization in state-run oil and energy companies. In recent days there have been disjointed messages from his campaign team on the urgency of reforms, further raising investor doubts.
"Bolsonaro signaled he would not be willing to vote for a version of pension reform proposed by current President Michel Temer, a possible sign that a reform push under Bolsonaro may not be as strong as markets hope," Wells Fargo strategists Erik Nelson and Nick Bennenbroek wrote in a report.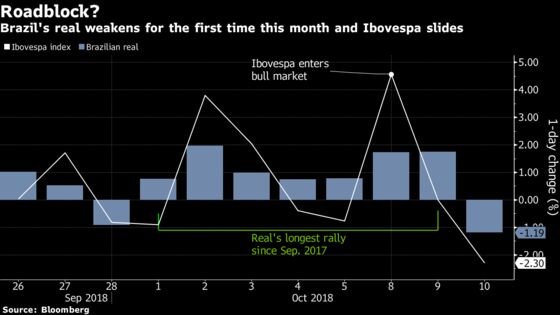 In the TV interview on Tuesday night, Bolsonaro also ruled out privatizing Brazilian state firms that generate electricity, and said that he wants to keep the core of Petrobras under government control. Shares in the oil company fell by as much as 4.4 percent on Wednesday, while Eletrobras fell by as much as 14.9 percent.
Assets elsewhere fell sharply on Wednesday, with U.S stocks tumbling the most since February on fresh concern about the impact of a trade war with China.
Much of investors' enthusiasm for Bolsonaro is because of his economic adviser Guedes, a University of Chicago-trained economist. The front-runner in the presidential race has repeatedly admitted his ignorance on economics and stated he plans to outsource decision-making in that area to Guedes.
So the news that the public prosecutor's office in Brasilia was investigating him over alleged links to pension fund fraud added to investor nervousness.
"It is not good news," said Tania Escobedo, a strategist at RBC Capital Markets in New York. "But I don't see it having a sustained impact unless it escalates quickly."
On Wednesday evening Guedes' lawyers issued a note strongly denying any wrongdoing and stated he would provide documentary evidence to prove his innocence. "It is clear that this initiative is an affront to democracy whose main purpose is to confuse the voter," it stated.
The Datafolha poll surveyed 3,235 people in 227 municipalities on Oct. 10 and the margin of error was plus or minus 2 percentage points.
The poll -- register number BR-00214/2018 -- was commissioned by local media organizations Folha and Globo.
The second round vote takes place on Oct. 28.