Brazil Far-Right Candidate Takes Strong Lead in Vote Tally
(Bloomberg) -- Brazil's far-right candidate Jair Bolsonaro won Sunday's presidential runoff, according to a near complete count of the vote published by electoral authorities.
Bolsonaro got 55.5 percent of the votes followed by Workers' Party candidate Fernando Haddad with 44.5 percent, with 96.3 percent of votes counted, according to electoral authorities. The former army captain will take office Jan. 1.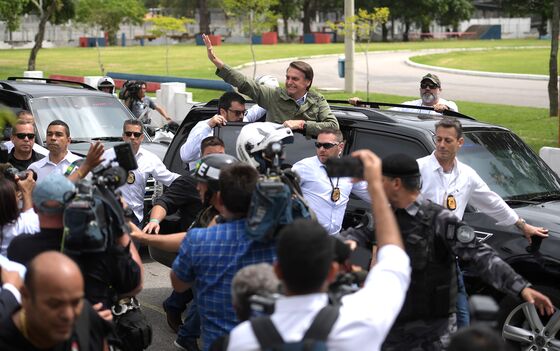 Brazilians cast their ballots Sunday in a bitterly divisive election after a prolonged period of upheaval that included the impeachment of a former president, a devastating recession and revelations of massive corruption among the country's business and political elite. Bolsonaro and his government will inherit an ailing economy grappling with mounting debt, slow growth and high unemployment.
Large crowds gathered outside the seven-term congressman's house in an upscale suburb of Rio de Janeiro to celebrate his victory with fireworks, bursts of the national anthem and chants of "legend."
"Today is the start of a new democracy," said Leila Figueiredo, a supporter partying with her husband outside the president-elect's residence.
In Sao Paulo, Haddad's voters stood mostly in silence, biting their lips as the television broadcast the election results. Police stepped in to separate rival groups of supporters shortly after Bolsonaro was declared the winner.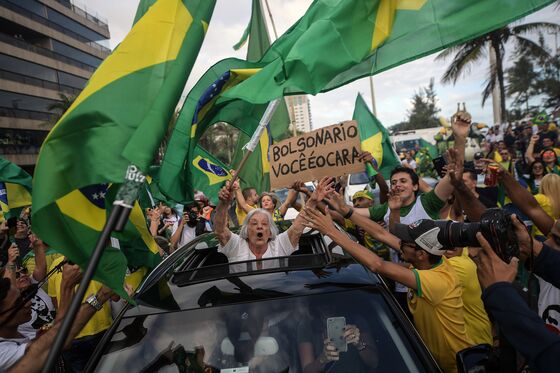 The ex-paratrooper had fallen just a few percentage points short of outright victory in the first round on Oct. 7. He built a popular following on the back of promises to crackdown on crime and corruption and won the support of investors by enlisting the support of University of Chicago-trained economist Paulo Guedes, who backs small government and free enterprise.
Haddad, a former one-term mayor of Sao Paulo, promised increases in state benefits and expanded social programs. Still, he failed to win over voters outraged by the Workers' Party's record on graft.