Brazil's Budget Impasse to Leave Economy Chief in Tougher Spot
An impasse between Brazil's economic team and congress over this year's budget will likely end up with President Jair Bolsonaro accepting only part of his economy chief's austerity pleas as lawmakers push to ramp up spending ahead of next year's elections.
Bolsonaro has agreed to reject part of the budget proposal to make room for mandatory spending that was purposely underestimated by lawmakers. But the vetoes will hardly amount to what Guedes is pushing for, according to four people with knowledge of the matter who requested anonymity because the discussions aren't public.
The economic team seeks to set aside something between 20 billion and 30 billion reais ($3.6 billion-$5.3 billion) for mandatory spending in social security benefits, said two of the people. That would mean less money for investment projects supported by lawmakers in their home states -- an increasingly difficult proposition as they all fight for scarce funds to please their constituents.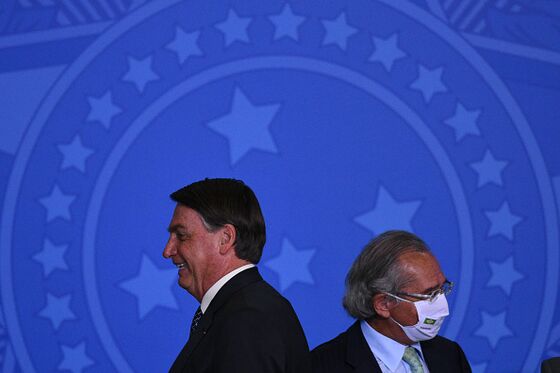 Lawmakers have so far offered to cut around 10 billion reais from their projects. An adviser to Guedes said the figure is still being negotiated and needs to take into account both legal and political considerations.
Guedes has spent the past few weeks warning Bolsonaro that the federal audit court could reject the government's accounts if the president approves an unfeasible budget. The court's opinion is sent to congress and could even be used as justification for an impeachment process similar to that of former President Dilma Rousseff.
Mandatory expenses would inevitably have to be dealt with throughout the year, Guedes has warned, eventually forcing the government to break constitutionally-mandated spending rules that investors consider the country's last line of defense against fiscal disarray.
Concerns about additional government spending this year -- on top of a 44 billion real cash handout program approved by congress to help the poor during the coronavirus crisis -- have left investors on edge. They fear that, after spending nearly 14% of gross domestic product to cushion the economic impact of the pandemic in 2020, Brazil has no credible plan to balance its budget, which could further weaken the currency, fuel inflation and derail the recovery.
Echoing such concerns, central bank chief Roberto Campos Neto has twice warned over the past three days that uncertainty surrounding the budget bill would lead investors to demand more yield to buy government bonds, potentially undermining monetary policy.
On the other hand, Bolsonaro's political advisers are constantly reminding him that this year's budget will be crucial to build his credentials to seek re-election in 2022, when he's likely to face his rival Luiz Inacio Lula da Silva, the leftist former president who returned to the political game after having his criminal convictions thrown away by a top court justice.
The budget episode is also the latest chapter in the deteriorating relationship between the president and his economy czar, who took office in the 2019 with the status of a super minister promising to fix Brazil's finances and boost growth with an aggressive program of privatization and economic liberalization.
Bolsonaro and Guedes are growing further apart, the people said, as the president understands that public spending will be ever more important to boost his popularity, badly hit by his handling of a pandemic that continues to claim thousands of lives every day. At the same time, Bolsonaro needs the support from centrist parties, notorious big spenders that now run both houses of congress, supporting the presidential agenda and shielding him from impeachment attempts.
A nod to these parties came last week, during a broad cabinet shake-up that allowed Bolsonaro to appoint lawmaker Flavia Arruda as his government secretary, a key position in negotiations with congress. The first-term house representative has the backing of Arthur Lira, the powerful speaker of the house, a sign that the new congress management seeks to consolidate its influence over the budget and will not completely accept Guedes's austerity policies, said two of the people.
And, even before the budget deadlock is solved, another dispute between Guedes and Bolsonaro's political team is looming -- the use of a so-called calamity that was employed last year to exclude all Covid-related stimulus from the spending cap rule.
The minister argues that making use of that mechanism again this year would be unreasonable. Campos Neto joined him on Tuesday by saying that invoking the calamity clause this year would be worse for the economy than the pandemic itself. But that possibility is already under discussion for the second half of the year if Brazil's vaccination campaign doesn't gain traction and the pandemic shows no sign of abating.