Brazil's Moro Hangs by Thread After Bolsonaro Fires Police Chief
(Bloomberg) -- The future of Sergio Moro as Brazil's justice minister looked increasingly uncertain after President Jair Bolsonaro dismissed the former judge's right-hand man in the federal police.
Bolsonaro fired police chief Mauricio Leite Valeixo but still hasn't named a replacement to head the institution, according to a decree published early Friday. Moro, who rose to fame fighting corruption as the head of the sprawling Carwash probe, also appears as having signed off on the decision.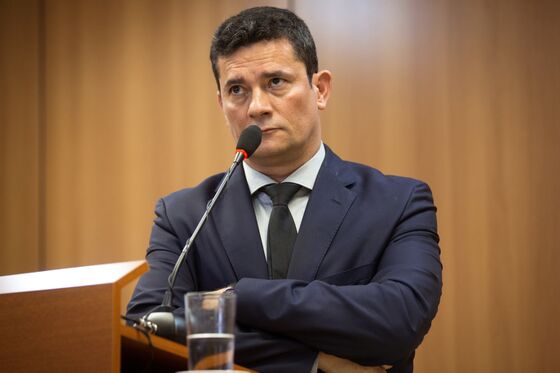 Moro will make a public statement at the justice ministry at 11 a.m. local time, according to his office.
Bolsonaro's move may give Moro the ability to name a new police chief as a compromise, or it could accelerate a decision to leave after tendering his resignation to the president on Thursday, as reported by local media. Neither Bolsonaro nor Moro have returned requests for comment, nor publicly discussed the issue.
His departure would be a blow to Bolsonaro, who could lose part of his base who nearly unconditionally supports the minister. It could also be an attempt to reshape his cabinet with more like-minded people, following his decision to fire Luiz Henrique Mandetta from the health ministry last week.
Moro became a national hero for many Brazilians when the Carwash investigation toppled some of Brazil's top business executives and political leaders, including former President Luiz Inacio Lula da Silva. He has enough popularity to challenge Bolsonaro in presidential elections in 2022.
The Brazilian real extended losses on Thursday following reports that Moro had offered to resign as traders said the news exacerbated political risk in Latin America's largest economy.