Brazil's Bolsonaro Fires Ally in Crisis That Raises Reform Doubt
(Bloomberg) -- Brazilian President Jair Bolsonaro fired a key political ally and cabinet member amid a campaign funding scandal, raising doubts over his government's unity and the prospect of economic reforms.
Secretary-General Gustavo Bebianno's dismissal was confirmed by the presidential spokesman on Monday afternoon, after days of intense speculation. The ruling PSL party that Bebianno headed and Bolsonaro joined less than a year ago allegedly misused campaign funds during last year's election, according to Folha de S.Paulo.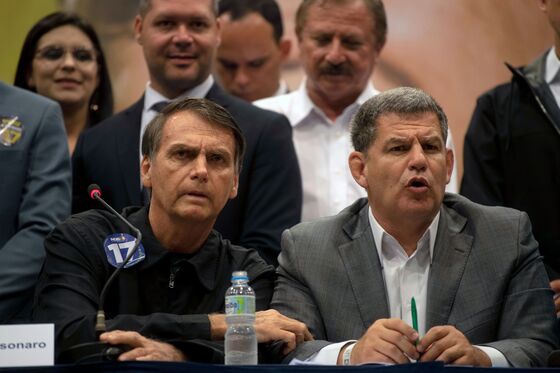 The crisis, only 45 days into Bolsonaro's government, showcases a deepening rift in his inner circle that threatens to derail a vital pension overhaul that could make or break Brazil's economic recovery. Bebianno was a central figure in the president's election campaign and an important liaison with Congress, but his position became increasingly untenable after Bolsonaro's son, Carlos, called him a liar via Twitter last week.
Military officials in the administration are extremely concerned and intend to monitor Bolsonaro and his sons closely, according to a senior member of government.
General Floriano Peixoto Vieira Neto will replace Bebianno, the presidential spokesman said. In a video released shortly after the announcement, Bolsonaro thanked Bebianno for his dedication and effort, saying that "different points of view" led to a need for reevaluation.
The bill to cut pension outlays and help fix Brazil's public finances will be presented to Congress this week and the government will need all the votes it can get to approve it. Bebianno's PSL currently rivals the opposition PT as the largest party in the house and the crisis has raised concern among some of its members.
PSL legislator Joice Hasselmann, one of the party's most high-profile figures, last week cautioned the president not to have a family branch in the presidency and "expose a senior member of government this way."
Rodrigo Maia, whose reelection as lower house chief was celebrated by investors earlier this month, said removing Bebianno would be bad for the reform process and for a government that doesn't have a working coalition yet.
In an interview with Bloomberg News, Vice President Hamilton Mourao said the president's family should wash dirty laundry at home.