Zurich, Aena Bid High to Win Brazil Airport Auction
(Bloomberg) -- Flughafen Zurich AG and Aena SME won concessions to operate airports in Brazil in an auction Friday. The tender was seen as a test of investors' appetite toward President Jair Bolsonaro's market-friendly agenda that includes a massive privatization plan.
Bids for the three regional blocks came in well above the initial ask, and the government will collect fees of some 2.4 billion reais ($630 million), about 10 times the minimum initial fee of 219 million reais. Infrastructure Minister Tarcisio Gomes de Freitas called the auction "a show of trust in Brazil," adding that the auction was just one of the government's initiatives to stimulate the sector.
Swiss firm Flughafen Zurich won the auction of the block of airports in the Southeastern region for 437 million reais, while Spain's Aena won the bidding for the Northeast block, with a 1.9 billion-real offer. Local companies Socicam Terminais Rodoviarios e Representacoes Ltda and Sinart Sociedade Nacional de Apoio Rodoviario e Turistico Ltda formed a consortium that won the rights to operate airports in the Center-West for 40 million reais.
All the winners said they are interested in the next concession rounds, which are expected for 2020 and 2021. Freitas said the rules for the next auction will be published Monday.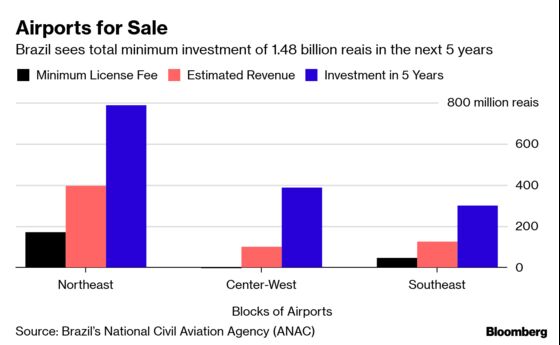 The government sold 30-year concessions for 12 airports, divided in three blocks:

Northeast, with airports in Recife, Maceio, Joao Pessoa, Aracaju, Juazeiro do Norte and Campina Grande.
Center-West, with airports in Cuiaba, Sinop, Rondonopolis and Alta Floresta
Southeast, with airports in Vitoria and Macae.

The block of airports in the Northeast had six initial bidders, the one in the Center-West had two and the Southeast block got four.
During the live auction, the Northeast airports were the ones that attracted the most interest.
International operators Vinci SA and Fraport AG Frankfurt Airport Services Worldwide, which won concessions to operate Brazilian airports in a 2017 auction, were also among bidders. Brazilian toll road operator CCR SA, which already operates airports in Belo Horizonte, in the state of Minas Gerais, as well as in Ecuador and Central America, also bid.
Besides the initial payment for the concession, the airport operators are committed to investing 1.48 billion reais each during the next five years, and paying a percentage of their gross revenue starting on the sixth year.
Eight Groups Interested In Brazil's Airports Auction: Valor
Multi-Billion Dollar Airport Tender to Start Brazil Asset Sale
Brazil Airport Auctions Should Attract Material Interest: Nau
Brazil State Asset Sales Begin With $683 Million Share Offering