Bolsonaro Wants Macron to Apologize Before Accepting Amazon Cash
(Bloomberg) -- Brazilian President Jair Bolsonaro conditioned his acceptance of 20 million euros in G-7 funds to combat Amazon fires on an apology from French President Emmanuel Macron.
After initially describing the plan presented by Macron on behalf of the Group of Seven countries as a threat to Brazil's sovereignty, the Brazilian president indicated he could accept the money if Macron first "takes back his insults against me." Bolsonaro's comment came after intense pressure from governors of northern Brazilian states affected by the fires.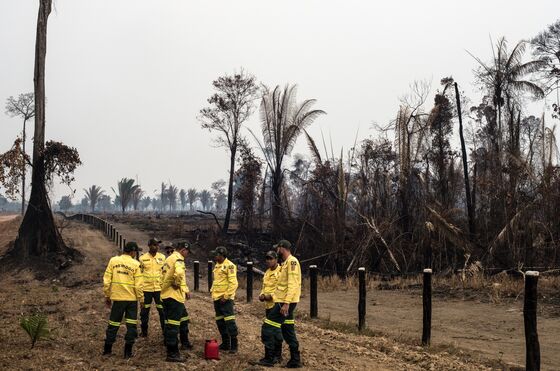 The presidents of Brazil and France have been locked in a fierce public dispute since Macron last week threatened to block a trade deal between the European Union and the Mercosur bloc of South American countries, saying Bolsonaro had lied to him about his commitment to fight climate change.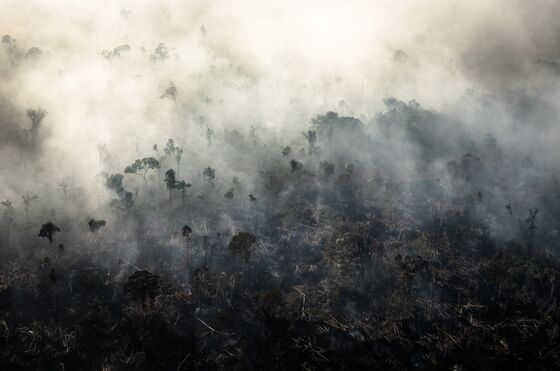 The hostility escalated over the weekend, with Bolsonaro making a sarcastic comment on a Facebook post that mocked the French first lady's physical appearance. Enraged, Macron on Monday said he hoped "Brazilians would soon have a president worthy of them."
Bolsonaro on Tuesday tried to justify himself: "I didn't post that photo. Someone did and I was telling the guy stop talking nonsense."
In an attempt to justify Bolsonaro's initial decision to reject G-7 funds, Chief of Staff Onyx Lorenzoni said late on Monday that the money could be used to reforest Europe instead. In an interview with G1 website, he said Macron couldn't even stop a fire at the Notre Dame Cathedral and was in no position to lecture Brazil.
Meanwhile, the Amazon continues to burn at a record rate, according to data from Brazil's space agency Inpe. After growing domestic and international outrage, Bolsonaro last week decided to deploy the army to fight the fires.
In a meeting with governors from northern states on Tuesday, Bolsonaro said he had nothing against the G-7 but only against "one of its presidents," in a reference to Macron. He added that the French leader had "lowered his tone a little bit" and celebrated a supportive tweet from U.S. President Donald Trump.
While most of the governors attending the meeting offered their support for the president's desire to develop the Amazon, many expressed concern about the potential harm caused by Bolsonaro's spat with the French president.
"We're wasting time" talking about Macron, Para Governor Helder Barbalho said during the meeting. He added that Brazil needs to worry about what is happening in Brazil otherwise there will be "severe" consequences for the economy.