Brazilian Front-Runner Jair Bolsonaro Stabbed on Campaign Trail
(Bloomberg) -- Brazil's far-right presidential candidate Jair Bolsonaro, who leads opinion polls four weeks ahead of the first round of voting, was stabbed during a street rally in the Southeast state of Minas Gerais on Thursday afternoon. He was rushed to the hospital, where he underwent surgery.
The candidate is in "intensive care in stable condition and should recover soon," hospital officials said Thursday night at a briefing in the city of Juiz de Fora. The doctors gave no timeline for his discharge. Bolsonaro's son, Eduardo, told Bloomberg News that his father was probably not going be able to return to the campaign trail for at least two weeks.
Amateur video footage of the attack shows Bolsonaro being stabbed in the stomach earlier in the day while he was being carried through the streets by his supporters. Bolsonaro, a 63-year-old former army captain, immediately clutched his stomach and grimaced in pain.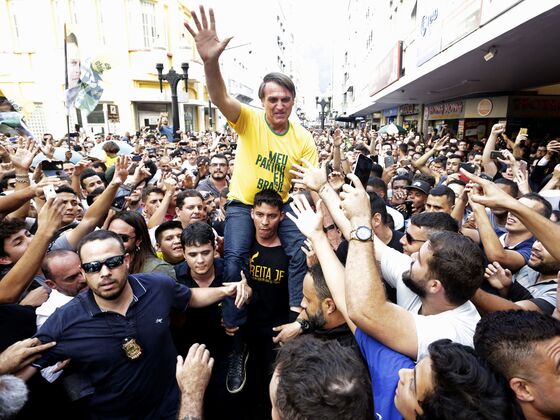 The suspect, 40-year-old Adelio Bispo de Oliveira, is already in custody, according to the press office of the local military police.
Brazil's President Michel Temer commented on the attack during an event in the nation's capital, Brasilia, saying "the intolerance that there's been in Brazilian society is unacceptable." Other presidential candidates were quick to condemn the attack.
Brazil will hold general elections next month.
Brazil's stocks and the currency jumped immediately following the attack. Bolsonaro, while a controversial and divisive figure in Brazil, is popular with many investors because of his free-market approach to the economy. They are now betting that the attack will wind up creating sympathy for the candidate and help propel him into the second round of voting, scheduled for October 27. The benchmark stock index Ibovespa climbed as much as 1.9 percent.
"The episode tends to intensify an already polarized political environment in Brazil and it's marginally positive to Jair Bolsonaro, who will have his media exposure increased," Christopher Garman, executive director for Americas at Eurasia Group, said in a phone interview.
The former army captain has made a name for himself with his unapologetic rejection of political correctness and willingness to court controversy. Statements about women, minorities and LGBT people have repelled some Brazilians, but attracted many others.
The incident comes after a tumultuous period in Brazilian history that saw a president impeached 2 years ago and the still popular former president Luiz Inacio Lula da Silva jailed and barred from running in the election this year. It is the most unpredictable election since Brazil's return to democracy in 1985 with a highly splintered field of candidates.
Bolsonaro has 22 percent of first-round vote intentions, more than 10 percentage points ahead of his closest rivals, according to an Ibope poll released this week. Former Environment Minister Marina Silva and left-wing candidate Ciro Gomes each have 12 percent while former governor of Sao Paulo, Geraldo Alckmin, has 9 percent. Fernando Haddad, the likely substitute for Luiz Inacio Lula da Silva, has 6 percent.
In spite of his lead, Bolsonaro's support has plateaued in recent weeks. Analysts said Thursday's attack may potentially give his candidacy a fresh momentum.
"This incident increases Bolsonaro's election chances," said Richard Back, head of Latin America political strategy at XP Investimentos. "He was losing votes and, all of a sudden, becomes a victim almost as big as Lula."