Protesters Roar, Candidates Spar as Brazil Race Hits Final Week
(Bloomberg) -- Demonstrators gathered in Brazil's largest cities to march against presidential front-runner Jair Bolsonaro on Saturday, the same day he was released from the hospital, setting up a tumultuous final week before the first-round vote for the nation's top job.
The former Army captain, 63, left Albert Einstein Hospital in Sao Paulo after recovering from a near-fatal stabbing more than three weeks ago. Within hours, Bolsonaro was the target of criticism from other candidates and protests in Brazilian cities and other parts of the world organized as part of the #NotHim pro-women movement.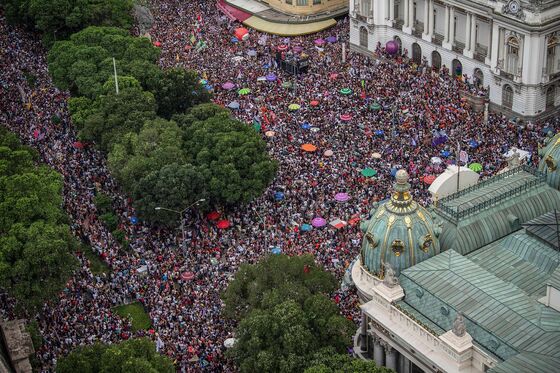 All of that, plus a judicial spat over whether former president Luiz Inacio Lula da Silva can give an interview from jail, and fresh polls showing Lula's political heir gaining on Bolsonaro, portends a frenzied last week of campaigning in Latin America's largest economy. With a corruption scandal and a historic recession fresh on their minds, voters will head to the polls Oct. 7 to choose from a crowded field of candidates.
While Bolsonaro still leads first-round vote intentions, Workers' Party candidate Fernando Haddad has surged in polls since receiving Lula's backing. A Datafolha survey released on Friday night showed Haddad opening up a six-point edge over Bolsonaro in a likely Oct. 28 runoff, while a previous poll had showed them in a second-round virtual tie.
Bolsonaro was stabbed Sept. 6 at a campaign rally in Juiz de Fora, Minas Gerais province. In a bedside interview weeks later, he said he'd been the victim of a political attack and that his survival had been a "miracle."
The conservative lawmaker received a bump in support after his stabbing, yet his campaign has hit some snags in recent days. Those include a spat with his top economic adviser, opposition from women groups and soccer fans, and a media report that he threatened his ex-wife.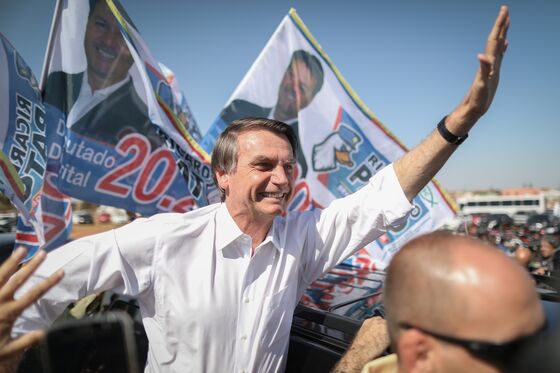 Bolsonaro's weeks-long absence from the trail rendered opponents unable to attack him directly in debates. As he returns, investors will be assessing his willingness to expose himself and risk a lead that indicates he will move on to the runoff vote.
In a video posted Saturday on the Twitter account of Bolsonaro's party, the PSL, Bolsonaro said "we are going back to being active," without elaborating. Local media gave conflicting reports as to whether he'll be able to start actively campaigning in the next few days.
Bolsonaro may be tested sooner rather than later. Local media on Saturday posted a video of centrist candidate and former Sao Paulo Governor Geraldo Alckmin describing Bolsonaro as a "spoiled boy" for saying he would only accept the results of the election if he won.
Meanwhile, thousands of marchers protested Bolsonaro's views on women in cities including the capital of Brasilia and financial hub of Sao Paulo, as well as metropolitan centers as far away as Cape Town and Barcelona. Bolsonaro's rejection rate stood at 46 percent in the Datafolha survey, the highest of all major contenders.
Bolsonaro once said a congresswoman was "too ugly to merit raping," and has said there's no problem if women receive lower salaries than men for doing the same job because they get pregnant.