Brazilian President's Pneumonia Is Getting Better, Spokesman Says
(Bloomberg) -- Brazil President Jair Bolsonaro is responding well to new medication aimed at fighting pneumonia, a spokesman said on Friday.
"What's important is that the president reacted well to a new batch of medicine," Otavio Rego Barros, the president's spokesman, told reporters. He said doctors will continue to monitor progress.
Brazilian assets dropped on Thursday after a hospital report that the 63 year-old president showed signs of pneumonia. Bolsonaro, who is recovering from a previously scheduled surgery, later sought to play down any concern in a message sent to his three million followers on Twitter.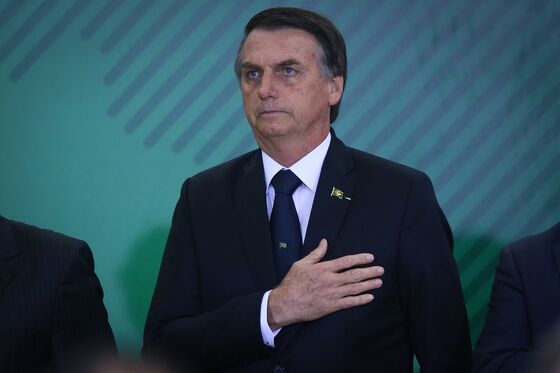 The president still requires more rest to fully overcome pneumonia, Rego Barros said. Hospital visits to Bolsonaro remain restricted. But on Friday he met with his infrastructure minister and one of his sons, and also spoke by phone with Vice President Hamilton Mourao, according to Rego Barros.
Bolsonaro also experienced bouts of fever and vomiting since the operation on Jan. 28. The former Army captain was originally expected to be discharged on Wednesday but that date was delayed.
The surgery reversed a colostomy he received after the stabbing by a fanatic on the campaign trail in September. Back then, he had spent a month recovering from abdominal wounds but went on to win the election easily. He was sworn into office Jan.1.