Brazil Poll Confirms Dip for Bolsonaro But Lead Still Strong
(Bloomberg) -- Brazil presidential front-runner Jair Bolsonaro saw the substantial lead he holds over his left-wing rival fall slightly in a poll for Sunday's runoff vote.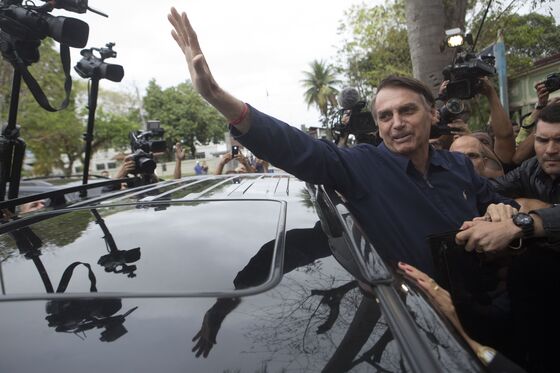 Bolsonaro got 56 percent of valid votes while Workers' Party candidate Fernando Haddad obtained 44 percent in a Datafolha public opinion survey published Thursday on newspaper Folha de S. Paulo's website. His lead fell six points in comparison with the previous Datafolha poll published on Oct. 18 which showed Bolsonaro commanding an 18-point lead.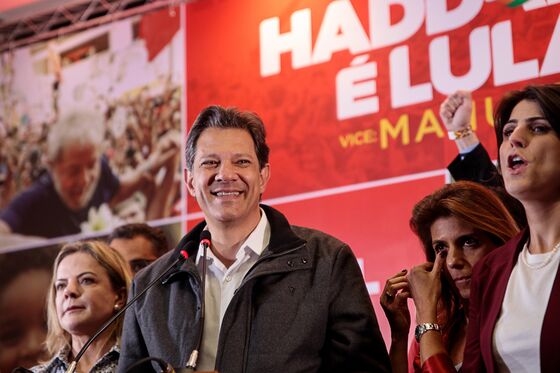 The far-right PSL lawmaker from Rio de Janeiro has clung on to a double-digit advantage boosted by a massive social media presence and hard-line stance on crime and corruption. Bolsonaro has managed to brush off allegations of a mass spam campaign against his rival and questions over his support for the country's democratic institutions. Haddad, meanwhile, has been unable to shake the Workers' Party's terrible record of graft.
Brazil's stock market and currency have outperformed peers in the last month as Bolsonaro expanded his lead over Haddad. The latest poll may impact the market on Friday, according to Andre Perfeito, an economist with Spinelli, a brokerage.
"We stand by our main scenario that the PSL candidate will win on Sunday but his margin of victory may be narrower than initially thought," he said. "This could anticipate problems that he will have implementing a pro-market agenda in a sticky environment."
The rejection ratings for both candidates remain high, with Haddad's standing at 52 percent and Bolsonaro's at 44 percent. There appears to be little room for Haddad to catch up: 94 percent of Bolsonaro's supporters say they are certain they will vote for him.
The Datafolha poll -- registered BR-05743/2018 -- surveyed 9,173 people on Oct. 24-25 and had a margin of error of plus or minus 2 percentage points. It was commissioned by Folha de S. Paulo and Rede Globo.