Brazil Plows Ahead With Interest Rate Hikes: Decision Day Guide
(Bloomberg) -- Discover what's driving the global economy and what it means for policy makers, businesses, investors and you with The New Economy Daily. Sign up here
Brazil's central bank is set to deliver a second straight increase of 75 basis points to its benchmark interest rate, while weighing how much more monetary tightening is needed to pull next year's inflation forecasts back down to target.
The bank will likely lift the Selic to 3.50% on Wednesday, as previously signaled by policy makers and forecast by all analysts in a Bloomberg survey. What's less certain is whether it will reaffirm plans to keep part of the stimulus in place, and what kind of guidance on rates it may offer.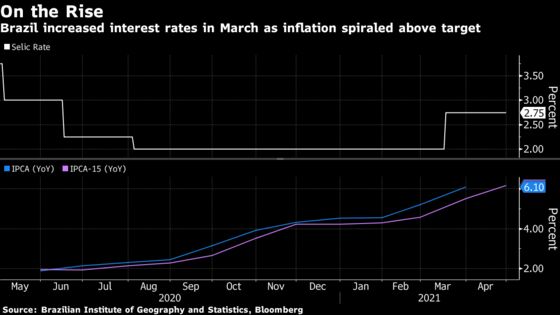 While the latest inflation readings have come in below economist expectations, many traders in interest rate futures keep calling for one additional rate increase of 0.75 percentage point later this year, in a cycle that's expected to boost borrowing costs by at least 350 basis points before the end of 2021.
Policy makers led by Roberto Campos Neto are required to be tough on consumer prices without harming a fragile economic recovery. It's an increasingly difficult task, as the country grapples with a slow vaccination campaign on one hand, and annual inflation that's running above target on the other.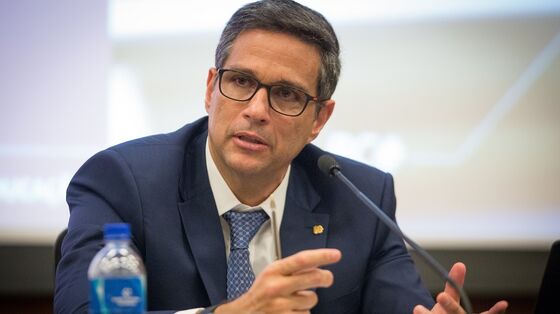 Wednesday's decision will be published on the central bank's website at 6:30 p.m. local time in Brasilia, together with a statement from the bank's board. These are the most important points investors will be focusing on:
A crucial clue about the size and length of the central bank's monetary tightening cycle will come from whether board members keep plans for a "partial" normalization of rates -- meaning that borrowing costs would remain stimulative. A change to that phrase, or even its elimination, can signal that the Selic will go even higher than previously thought.
What Bloomberg Economics Says

"There's no reason for the central bank to deviate form its commitment to a 75bps hike. Therefore, what will be key is not the decision itself but what they will say regarding future steps. We see the Selic at 5.5% through end-2021. But if the central bank drops their reference to "partial normalization" the market will understand it as signaling that they want to go to 6%-7% at the end of this cycle."

--Adriana Dupita, Latin America economist

--Click here for the full report.
Investor eyes will dart to the central bank's latest inflation forecasts. At their previous rate-setting meeting in March, board members predicted cost of living increases will converge to the 2022 goal of 3.5%. Since then, private sector economists have raised their consumer price estimates above target for both this year and next.
If policy makers follow suit, it may be a sign of more prolonged rate increases ahead. Indeed, food and fuel prices have risen sharply, and there's continued political pressure for more spending against the pandemic. The bank board will likely issue harsher warnings on inflation in response to its short-term surge, according to Cassiana Fernandez, an economist at JPMorgan SA.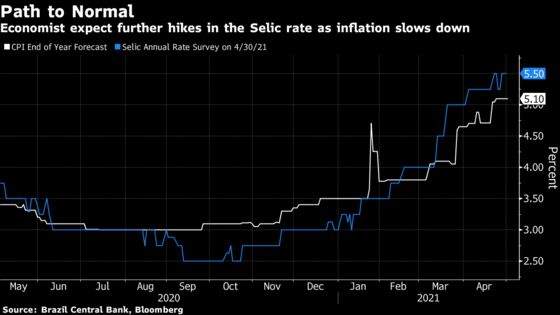 Financial markets will seek out central bank comments on the strength of Brazil's economic recovery and its resilience against a deadly virus wave. Since the last policy meeting, the government has started to pay out a new round of emergency aid to help the poor weather the outbreak.
At the same time, the administration has faced fresh challenges in securing a steady supply of vaccines that are seen as the centerpiece to the economy's permanent reopening. "There's still a lot of uncertainty regarding the pandemic, the economy and also politics," said Alberto Ramos, chief Latin America economist at Goldman Sachs Group Inc.
Read More
Brazil Posts Slower-Than-Expected Inflation Before Rate Hike