Brazil's New Central Banker Seeks Formal Autonomy to Do His Job
(Bloomberg) -- Brazil's central bank would be better equipped to keep inflation low if its autonomy to decide on monetary policy were guaranteed by law, the bank's new chief said as he was sworn in on Wednesday.
"It's important to keep the recent gains obtained in monetary policy," Roberto Campos Neto said, stressing that increased central bank credibility has been crucial for reining in inflation. "We believe that an autonomous central bank would be better prepared to consolidate these recent gains."
While Brazilian policy makers have enjoyed freedom to set interest rates, a bill granting formal autonomy to the central bank could boost the strength of monetary policy by eliminating the risk of political interference.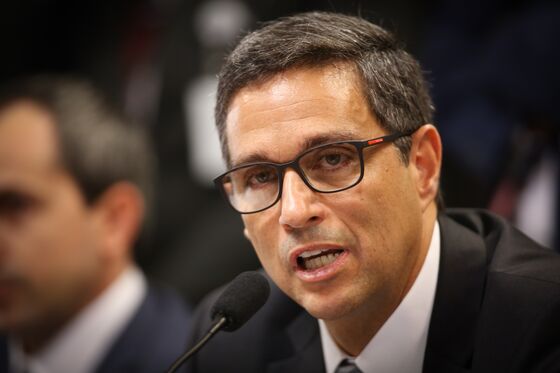 Campos Neto is taking the helm of the central bank amid a sharp slowdown in economic growth that's kept inflation subdued even as the benchmark interest rate sits at a record low. A 49 year-old former Santander bank treasurer who had never held public office, he will have to hit the ground running to preside over his first monetary policy meeting next week.
Brazil's Selic has remained at 6.50 percent for nearly a year after Campos Neto's predecessor, Ilan Goldfajn, aggressively eased monetary policy to boost the economic recovery. With inflation expectations at or below target through 2021 and growing signs that the recovery is losing steam, some economists are asking whether there's room for additional rate cuts this year.
Campos Neto offered little guidance on future rate decisions, repeating his predecessor's mantra that monetary policy will remain based on "caution, serenity and perseverance."