Alckmin Wins Backing of Powerful Brazilian Party Coalition
(Bloomberg) -- After lingering in single digits for months in Brazil's presidential opinion polls, Geraldo Alckmin has won the backing of a powerful coalition of political parties. The question now is whether that will translate into more votes.
On Thursday a handful of influential parties threw their weight behind Alckmin, an ex-governor of Sao Paulo from the business-friendly Brazilian Social Democracy Party, or PSDB, leaving the ex-Army captain Jair Bolsonaro and outspoken leftwinger Ciro Gomes out in the cold. Former environment minister Marina Silva has also failed to strike any deals to boost her prospects.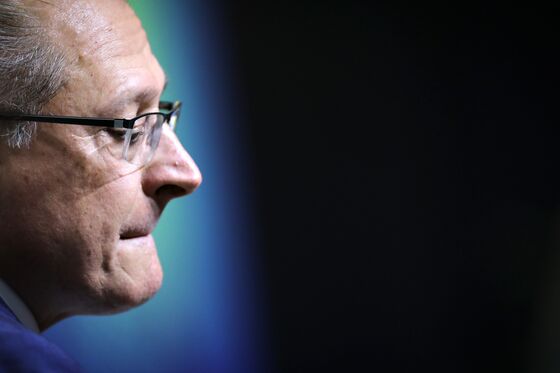 If history is any guide, electoral alliances are crucial for candidates' success, granting them access to greater TV time as well as coalition parties' national network of representatives. In the last five presidential elections, only those politicians backed by numerous parties made it through to the run-off. While social media may diminish TV's importance in this election and political parties have become deeply distrusted, local politicians familiar with voters may still be best placed to mediate their presidential candidates' messages.
"The person who is always with the voter, who bridges the electorate and the politicians is the city councilor and the mayor who the voter knows," said Andre Pereira Cesar, a political analyst. "Support in the last presidential campaign shows that these politicians bring in votes and that's why the support of the parties is so highly valued."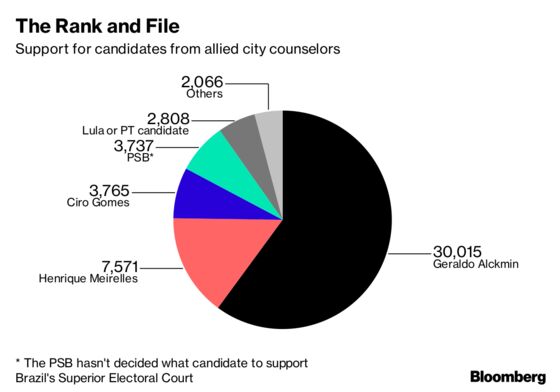 With the backing of nine parties, aside from his own, Alckmin's alliance has matched the largest coalition size set by former President Dilma Rousseff in 2010. In theory, the PSDB candidate now commands the support of 54.6 percent of the country's mayors and 51.8 percent of the country's city councilors. Given Brazil has 5,570 cities and 57,491 city councilors that's no small thing, even if the local branches of the country's political parties are often at odds with the national executive. Opinion polls currently put Alckmin on around 7 percent of vote intentions, in fourth or fifth place.
Thirty mayors and 883 city councilors support Bolsonaro, who leads the polls when they discount Luiz Inacio Lula da Silva. The former president is in prison following his conviction for corruption, and is likely to be barred from standing. Silva, meanwhile, positioned behind Bolsonaro, has the backing of just seven mayors and 180 city councilors.