Brazil Killings Fall in First Quarter, Providing Hopeful Signal
(Bloomberg) -- Violent deaths in Brazil plunged in the first three months of the year, extending a positive trend that started last year and providing some relief to Brazilians weary of high crime rates.
Killings fell 24 percent to 10,324 in the first quarter, as compared with the same period of 2018, according to the Monitor of Violence database compiled by local news media G1. The official data includes all of Brazil's states except Parana, which hasn't reported its numbers yet.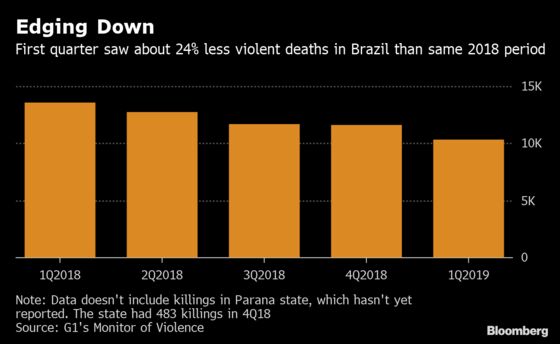 President Jair Bolsonaro was quick to seize on the good news, posting the homicide data on his Twitter account. "Experts will say the drop has no connection to our actions, but had the numbers increased, they would certainly blame them on the government," he wrote.
The recent improvement comes after years of soaring crime rates in Latin America's largest country. Until 2016, Brazil had the 12th highest homicide rate in the world, worse than Colombia and the Central African Republic, according to the most recent data from the World Bank. The recent positive trend must continue until the end of the year for researchers to compare results from different states and start drawing conclusions, according to Joao Trajano, a researcher at the Laboratory of Violence Analysis in Rio de Janeiro.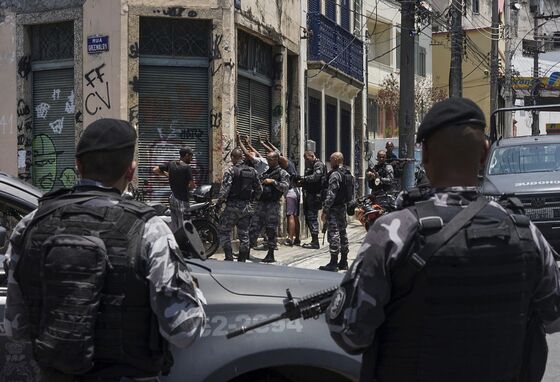 "There's no convergence in the policies of states that registered declines, nor was there any federal government initiative during 2017 or 2018 to justify such a fall that was spread across several states," Trajano said by phone. "That's the reason we are perplexed and also cautious."
While public security is the responsibility of state governors, Brazilians largely put their hopes for safer streets in Bolsonaro, who was elected last year with tough talk on crime. So far, his measures to tackle criminality include a decree liberalizing gun ownership and a bill that would grant police greater a latitude to shoot criminals.
The tally of violent deaths in the states' database includes homicides as well as deaths resulting from violent muggings and assaults, but not killings by police officers. Indeed, killings by police in Rio, at least, surged in the first months of the year.
It's unclear whether the decline of violent killings, excluding those by police, is due to local actions or reflect organized crime's withdrawal amid threats of crackdown, according to Alba Zaluar, an anthropologist at Rio's state university.
Other possible causes highlighted by G1 include reduced tensions between gangs after a murder spree in Brazil's prisons; authorities more actively disrupting gang activity in jails; and increased collaboration between state governments.