Five Top Brazil Officials Get Covid-19 After Court Ceremony
(Bloomberg) -- The swearing-in ceremony of Brazil's chief justice last week is emerging as a potential new cluster of coronavirus infections among the country's political elite.
Lower house Speaker Rodrigo Maia was diagnosed Wednesday, becoming the fifth senior government official to test positive for Covid-19 after attending the event.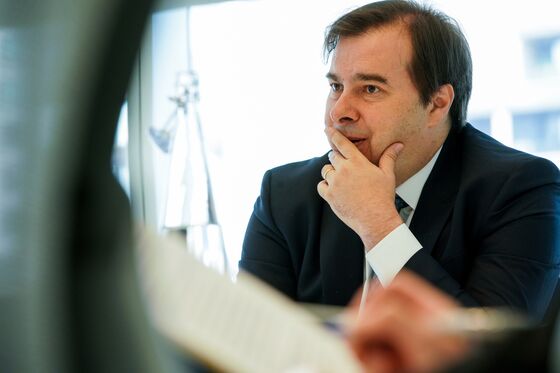 Maia is currently experiencing mild symptoms and is being treated at his official residence in Brasilia, where he will remain in isolation respecting medical recommendations, his press office said in a statement.
Maia attended the Sept. 10 swearing-in ceremony of Supreme Court Chief Justice Luiz Fux, who tested positive for Covid-19 earlier this week. Another three high ranking federal judges were infected.
The Supreme Court said in a statement on Thursday that several precautionary measures were taken during the event, including the mandatory use of masks. According to local media, many guests took out their masks as they chatted after the ceremony. The court also said it is reaching out to all the participants and urging them to look for medical assistance if needed.
The infection of Maia and Fux now means that the head of every branch of Brazil's federal government has come down with Covid-19. President Jair Bolsonaro, senate leader Davi Alcolumbre, and dozens of cabinet members and legislators have tested positive over the past few months. Brazil is a global epicenter for the virus: as of Wednesday, the country's caseload exceeded 4.4 million with over 134,000 deaths.
While Maia is seen as a pro-business legislator who played a key role in the pushing through a pension overhaul, his infection won't delay upcoming measures like tax and administrative reforms, according to Paulo Ganime, a senior lawmaker -- "unless he becomes seriously ill."
But Marcelo Ramos, another senior lawmaker, expects Maia's absence to take a toll on the reforms.
"Everything in the house is concentrated in Maia's hands, so of course this will harm the reform's pace," he said. "But I don't believe any reform will be approved this year anyway, with or without Rodrigo," he added, in a reference to a challenging environment ahead of a municipal election in November.