Brazil Holds Key Rate at 6.50% and Signals No Cuts in Sight
(Bloomberg) -- Brazil held its benchmark interest rate at a record low and signaled that a period of weaker-than-expected growth is still insufficient for reduced borrowing costs.
The bank's board, led by its President Roberto Campos Neto, on Wednesday voted unanimously to keep the Selic rate unchanged at 6.50 percent. The monetary authority has held borrowing costs steady for roughly a year.
In a statement accompanying the decision, policy makers wrote a period of slow growth at the end of 2018 extended to the start of this year, and that dangers associated with economic slack increased at the margin. Risks that may lead to either higher or lower inflation are symmetric, the bank board wrote, adding that it "assumes the process of gradual economic recovery will resume."
Global markets were roiled this week by threats of new trade tariffs between the U.S. and China, further clouding an international outlook that Brazil's central bank has flagged as a key risk to monetary policy. At the same time, the domestic economy teeters on the brink of a contraction due to weak demand and doubts over whether President Jair Bolsonaro can make good on market-friendly reforms. Feeble activity has kept inflation within bounds, giving officials room to hold rates.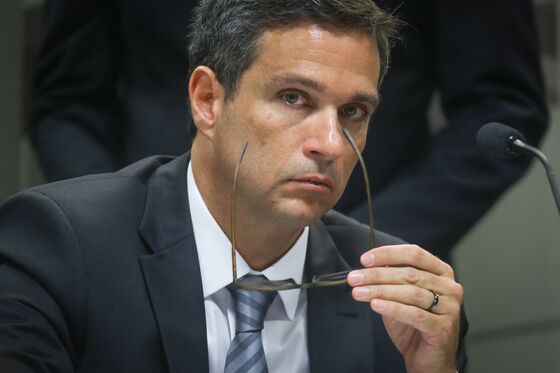 What Bloomberg's Economist Says

"No surprises in either decision or wording of the statement, which remains broadly consistent with stability of the rate for the next months. Copom acknowledges the weaker-than-expected economic activity -- as it was bound to do -- but the fact that it is still sees risks as symmetric suggests that they are not contemplating a rate cut for the time being."
--Adriana Dupita, Latin America economist
Emerging market assets, including those of Brazil, already trembled as the U.S.-China trade dispute escalated in recent days and the fear among investors was that lower interest rates could have helped fuel capital flight, risking a weaker real translating into inflationary pressure.
On the other hand, Brazil's 2019 growth outlook has dropped for 10 straight weeks, as sectors from retail to industrial production fail to pick up amid fading enthusiasm with Bolsonaro's administration. Investors are growing pessimistic over delays and possible changes to the government's proposed pension reform, considered crucial to cutting debt and jump-starting the economy.
Weak demand will help inflation remain on the official target of 4% in 2020 and of 3.75% in 2021.