Brazil Doubles Down on Plans to Keep Key Rate at Record Low
(Bloomberg) -- Brazil plans to hold interest rates at a record low for the foreseeable future, with policy makers describing price pressures that emerged during the economic recovery as just temporary.
The central bank, led by Roberto Campos Neto, held the Selic rate at 2% on Wednesday after cutting 450 basis points from borrowing costs during the previous nine meetings. While temporary increases to food prices will drive short-term inflation, slack persists in the services sector, policy makers said, reaffirming their previous guidance on rates.
The central bank "does not intend to reduce the monetary stimulus unless inflation expectations, as well as its baseline scenario inflation projections, are sufficiently close to the inflation target," they wrote in a statement accompanying their decision. The bank targets inflation of 4% for this year and 3.75% for next.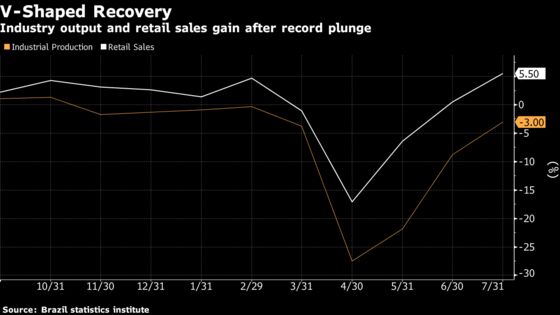 Latin America's largest economy is getting a shot in the arm from the central bank and also from billions of dollars in fiscal stimulus unleashed during the pandemic. Industrial production and retail sales beat out analyst estimates in June and July -- a sign activity is starting to firm up even as the country faces one of the world's worst coronavirus outbreaks, with over 4.4 million virus cases and more than 134,000 related deaths.
Still, there's no shortage of headwinds to the recovery. In its statement, the central bank board wrote "there is significant uncertainty" about the economy due to a "possible decline in government stimuli" and that global growth is uneven amid the pandemic.
What Our Economist Says

"The central bank unanimously voted to hold the policy rate at its historical low, and did not alter its forward guidance. Still, a few comments in the post-meeting statement suggest a slightly dovish undertone."

--Adriana Dupita, Latin America ecoomist, Bloomberg Economics

--To read the full report, click here
"The economic recovery is uncertain and requires stimulus," said Alexandre Espirito Santo, an economist at Orama Investimentos, a brokerage in Sao Paulo. "The statement signals that rates should remain 2% for longer, depending on the fiscal situation."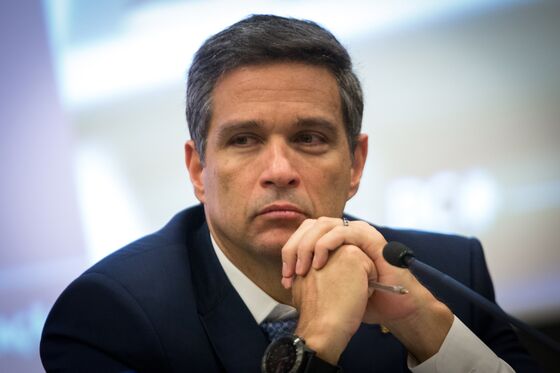 Brazil's rate decision came hours after the U.S. Federal Reserve left borrowing costs near zero and signaled it would hold them there through at least 2023. Chile and Peru are also seen holding rates near zero, while Mexico is expected to keep its borrowing costs on hold at a four-year low later this month.
Emergency government spending helped food and beverage prices to jump in August and and lifted break-even inflation rates -- measured by the difference on yields between nominal and inflation-linked bonds -- even as headline inflation still runs below target.
Under pressure, President Jair Bolsonaro asked supermarket representatives to reduce profit margins on food staples.
Emergency spending has also prompted the country's budget gap to balloon to over 12% of GDP, and few advances on austerity proposals are seen ahead of November's municipal elections.
Still, policy makers reiterated on Wednesday that various measures of consumer prices remain below the level compatible with hitting the inflation target. Their forecasts showed cost of living increases falling short of target through next year.
"The central bank downplayed short-term inflation and did not change its views on fiscal concerns," said Carlos Menezes, a portfolio manager at Gauss Capital Gestora de Rec Ltda. "Most importantly, it reinforced the forward guidance, leaving it clear that it doesn't expect to raise rates in the short-term."