Brazil Holds Rate at 6.50% as Price Jump Seen as Temporary
(Bloomberg) -- Brazil's central bank held its key rate at a record low and signaled plans to keep borrowing costs steady as price pressures ease.
The bank's board, led by Ilan Goldfajn, kept the benchmark Selic unchanged on Wednesday at 6.5 percent for a third straight meeting. At the previous gathering in June, it signaled a possibility of tightening to counter a currency sell-off. Now, the central bank sees a relatively stable environment for emerging markets, as well as easing pressure on prices from a weaker currency and a nationwide truckers' strike that started in late May.
"June inflation reflected significant upward pressure from the halt in the transportation sector and other relative price changes. Recent data corroborate the view that these effects should be temporary," policy makers wrote in a statement accompanying their decision. They also wrote that the base scenario entails keeping the Selic rate at its current level. The central bank will likely keep borrowing costs unchanged this year before starting to tighten in February 2019, Alberto Ramos, chief economist for Latin America at Goldman Sachs, wrote in a research note.
"The central bank sees an improvement from the last meeting," said Thais Zara, chief economist at Rosenberg Consultores Associados. "They will continue to observe."
Inflation in the month through mid-July accelerated less than forecast as the price shock brought about by May's strike started to fade. Brazil's real, along with other emerging-market currencies, recovered and has gained roughly 3 percent since the end of June. Over the last month, investor risk perception plunged and prompted traders to back off bets for an August rate hike.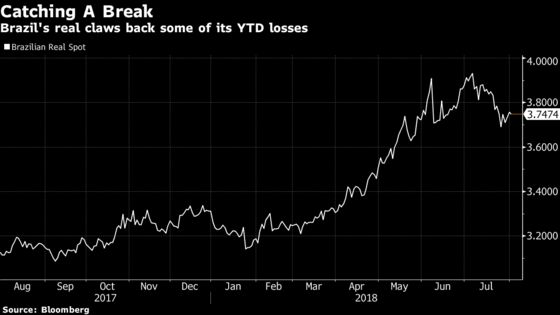 Still, there are risks on the horizon. With no clear favorite and more than 40 percent of the electorate either undecided or planning to cast a protest vote, October's presidential election is the most uncertain since Brazil's return to democracy in 1985.
Imprisoned former President Luiz Inacio Lula da Silva leads opinion polls but is likely to be barred from running due to his criminal conviction for corruption and money-laundering. Trailing Lula are a former army captain and a leftist former governor pledging to undo recent, market-friendly reforms.
"The central bank will analyze this calmly," Zara said. "But they are alerting that it's important to continue with economic adjustments."