Brazil's Congress Heads Pledge Economic Reforms, Covid Aid
(Bloomberg) -- The new heads of Brazil's lower house and senate pledged to work on key economic reforms and additional Covid-19 assistance, as they held their first meeting with President Jair Bolsonaro in a display of unity.
House Speaker Arthur Lira and Senate President Rodrigo Pacheco, who swept to the key congressional jobs with Bolsonaro's support, wrote in a Wednesday joint-statement they would prioritize bills to reform the tax system and the careers of public servants while also discussing ways to assist Brazilians who lost their income during the pandemic.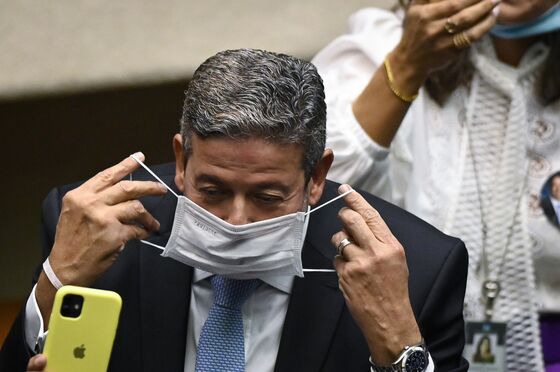 "Respecting the spending ceiling, we need to consider alternatives to offer financial security through emergency aid for Brazilians who are facing misery amid the pandemic," read the document they personally delivered to Bolsonaro at the presidential palace.
Investors are betting that the political alignment between Bolsonaro and the new heads of congress will facilitate the approval of reforms during the second half of the president's term. They worry, however, that lawmakers may also approve additional spending that could jeopardize austerity measures sought by Economy Minister Paulo Guedes.
Brazil posted a record primary budget deficit of 11.5% of gross domestic product last year as the government deployed massive stimulus measures to support the economy during the pandemic. Most of the funds were consumed by a program of monthly stipends to informal workers, which Lira and Pacheco may revive this year.
Read More: Brazil Begins Discussing More Financial Aid Amid Virus Surge
At the end of the meeting, Bolsonaro said he also suggested themes to be debated in congress, without elaborating on whether he supports another round of emergency payouts.
"We will work in harmony," he said.
Bolsonaro later repaid the visit, heading to congress to personally deliver his message at the opening of this year's legislative work. He urged lawmakers to show "involvement and commitment" to resume the country's economic agenda and also called for privatizations -- a topic Lira and Pacheco didn't mention in their statement.