Brazil Front-Runner Says He'll Only Accept Election Results If He Wins
(Bloomberg) -- Brazil's leading presidential candidate, far-right former army captain Jair Bolsonaro, said that he wouldn't accept an election result that doesn't grant him victory.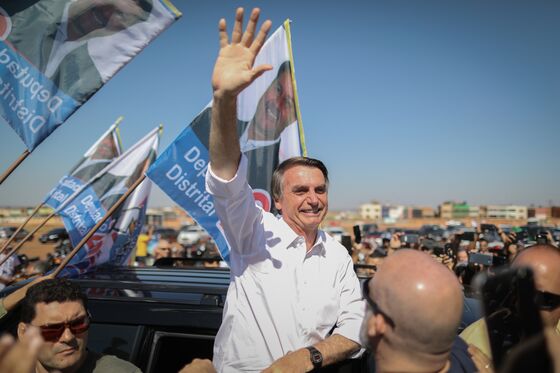 Speaking Friday evening in a live televised interview on TV Band from his hospital room, where he is recovering after a knife attack, Bolsonaro was asked how he thought the military would react if Fernando Haddad, the leftist Workers' Party candidate, were to be elected president.
"I can't speak for the commanders," he replied. "From what I see on the streets, I won't accept any result other than my election."
Bolsonaro currently leads the opinion polls ahead of the first-round vote Oct. 7, followed closely by Haddad. In a field of 13 candidates, neither man looks likely to obtain the 50 percent plus one needed to win outright, meaning they will face each other in a runoff on Oct. 28. Asked in the same interview about the possibility of the Workers' Party winning, Bolsonaro said that the only way that could happen would be through electoral fraud, adding that he believes employees from the electoral court may try to tamper with the results.
The latest Datafolha poll, published on Friday night, showed Bolsonaro with 28 percent support, the same as the last survey by the organization on Sept. 20, while Haddad has 22 percent, up six percentage points from last week.
In a second round scenario, Haddad narrowly holds the edge over Bolsonaro, with the leftwinger on 45 percent, and the ex-paratrooper on 39 percent. Bolsonaro's incendiary rhetoric has helped fuel his rise, but it has also led to the highest rejection rating among all the candidates, at 46 percent versus 32 percent for Haddad.
The Datafolha's poll isn't expected to trigger a significant reaction in Brazilian assets on Monday sessions, as investors have been pricing in a runoff between Bolsonaro and Haddad.
"Haddad's momentum is positive, but the poll shouldn't negatively impact local assets on Monday, as the market seems to be increasingly accepting him," said Avantgarde Capital's portfolio manager Mario Avelar.
Bolsonaro expects to be released from hospital in the next few days. He told his TV interviewer that his doctors have ordered him to stay at home until Oct. 10.