Bolsonaro Keeps Grip on Lead in Brazil Runoff, Poll Says
(Bloomberg) -- Former Army Captain Jair Bolsonaro held on to a double-digit lead over his leftist rival in a public opinion poll for Brazil's second-round presidential vote.
Bolsonaro got 57 percent of valid votes, ahead of 43 percent obtained by Workers' Party candidate Fernando Haddad, according to an MDA poll published on Monday by Brazil's National Transportation Confederation, CNT. Haddad's rejection rate stood at 51.4 percent of voters, compared to 42.7 percent for his opponent.
The poll corroborates other surveys which show the conservative legislator from Rio de Janeiro coasting to victory in Brazil's Oct. 28 runoff. Bolsonaro's following has surged on his hard-line stance on crime and corruption, even amid controversial remarks on women and minorities. Meanwhile, investors are driving up local assets on bets Bolsonaro will tackle a long list of economic challenges including ballooning public debt, slow growth and high unemployment.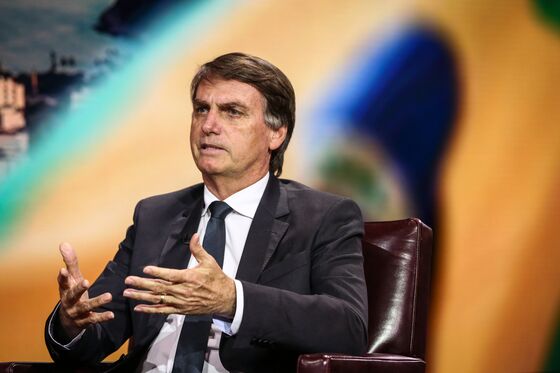 When null and blank ballots are included, Bolsonaro got 48.8 percent of total votes, while Haddad obtained 36.7 percent. The MDA/CNT poll surveyed 2,002 people on Oct. 20-21 and has a margin of error of plus or minus 2.2 percentage points.