Brazil Election Leader Bolsonaro Hits Ceiling, Poll Shows
(Bloomberg) -- Brazilian presidential front-runner Jair Bolsonaro's support has stalled in the latest opinion poll, indicating his high rejection rate may prevent him from winning the nation's top job.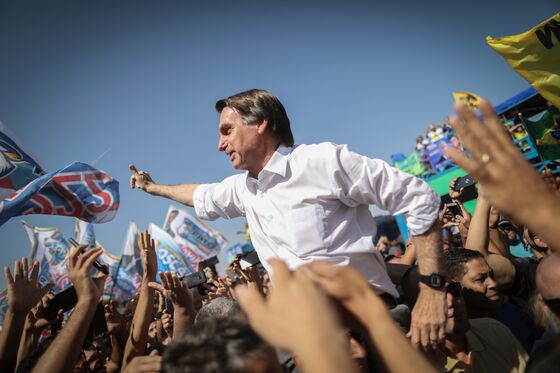 The former Army captain garnered 27 percent support in an Ibope poll published on Wednesday, compared with 28 percent in a separate Ibope poll published on Monday. In a likely runoff vote Oct. 28 against runner-up Fernando Haddad of the leftist Workers' Party, Bolsonaro would lose by four percentage points, the same as the combined margin of error between them.
Both Brazil's benchmark stock exchange and currency briefly pared gains after the Ibope poll was published. Investors are concerned Haddad would wield a heavy government hand in the economy and do little to close a gaping budget deficit.
Bolsonaro has gained notoriety for remarks against women and minorities and downplaying abuses during the country's military dictatorship. Now there are growing signs those remarks are backfiring among many Brazilians. The rejection rate of the former paratrooper is 44 percent, compared with 27 percent for Haddad, the Ibope poll showed.
After receiving a boost due to the stabbing by a fanatic earlier this month, Bolsonaro's campaign has hit some snags in recent days. Those include a spat with his top economic adviser, outspoken opposition from women groups and soccer fans, and a media report that he allegedly threatened his ex-wife.
Ibope surveyed 2,000 people on Sept. 22-24 and the poll has a margin of error of plus or minus two percentage points. The pollster says it isn't running polls for any of the presidential candidates this year.
Eight of the leading presidential candidates took part in a televised debate on Wednesday evening, with the notable exception of Bolsonaro, who remains in hospital recovering from a stabbing. While some of the candidates exchanged sharp barbs, the event did not appear to be a game changer.