Brazil Recovery Looks Weak After Activity Lags All Forecasts
(Bloomberg) -- Brazil's economy expanded less than expected in May, according to a key measure of activity, indicating an unchecked coronavirus outbreak is holding back demand even as some establishments reopen.
The central bank's economic activity index, which is a proxy for gross domestic product, rose by 1.31% from April, less than all estimates in a Bloomberg survey that had a median forecast for a 4.5% gain. Activity dropped by 14.24% from a year ago, according to a report on the bank's website on Tuesday.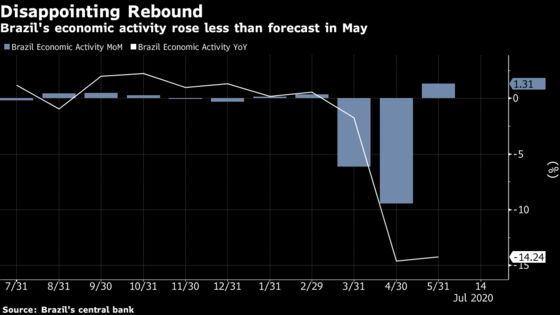 Brazil's economy is struggling to find its footing amid an ongoing virus outbreak that's now engulfing smaller cities and the interior. The central bank has cut its interest rate to a record low and facilitated lending to smaller companies, while the government is also extending aid to informal workers. So far the results have been uneven, with industry and retail recovering part of their previous losses while the services sector extends declines.

Read More: BRAZIL REACT: Feeble Activity Rebound Disrupts Budding Optimism
Tuesday's data stands to dampen optimism from Economy Minister Paulo Guedes, who said this month that the worst of the crisis had passed. Brazil's central bank has struck a more cautious tone, warning that a sharp, "V-shaped" recovery is far from guaranteed.
What Our Economist Says

"The feeble May rebound nips in the bud the incipient market optimism about the speed of recovery, and may fuel bets on an additional rate cut in August. For now, we maintain our expectation of a -6.4% growth this year and of a flat Selic, but the odds may tilt toward a rate cut if the next round of economic data -- labor, credit and industrial output for June, and confidence indexes for July -- comes in weak."

--Adriana Dupita, Latin America Economist, Bloomberg Economics
President Jair Bolsonaro, who said last week that he had come down with the virus, has repeatedly argued against limits on commerce and movement aimed at slowing the virus, saying they do more harm than good and will lead to higher unemployment. That's put him at odds with international health recommendations and even members of his own cabinet.
In May, state governors started to unwind those restrictions. Some automobile assembly companies resumed operations, while malls and stores in the capital city of Brasilia opening again to the public even though many said the flow of customers remained below normal.
Those efforts have continued through the start of July, as bars, restaurants and public parks in the financial hub of Sao Paulo have also reopened their doors. Meanwhile, economists surveyed by the central bank have trimmed their estimates for this year's recession, to a 6.10% drop in GDP from 6.50% previously, according to the survey published on Monday.
Still, the World Health Organization has warned that a local peak may not come until August. Brazil's total number of virus cases is expected to surpass two million as soon as Tuesday, with total deaths already numbering over 72,000.