Brazil Cuts Rates and Leaves Options Open for Next Meeting
(Bloomberg) -- Explore what's moving the global economy in the new season of the Stephanomics podcast. Subscribe via Apple Podcast, Spotify or Pocket Cast.
Brazil cut its benchmark interest rate by half a percentage point to a record low and said it will exercise caution in its next monetary policy decision, leaving the door open for additional easing.
The bank's board, led by its President Roberto Campos Neto, on Wednesday lowered the Selic rate to 4.5%, as forecast by all 53 economists in a Bloomberg survey. While many analysts expected policy makers to signal this was the end of the monetary easing cycle, the statement accompanying the decision highlighted that inflation remains at comfortable levels and that future decisions will be data dependent.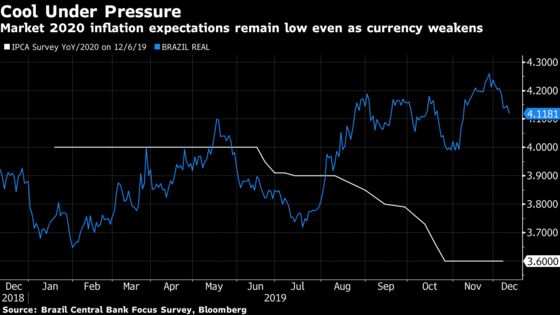 The central bank "judges that the current stage of the business cycle recommends caution" on monetary policy, policy makers wrote. "The Committee emphasizes that its next steps will continue to depend on the evolution of economic activity, the balance of risks, and inflation projections and expectations."
The central bank is ramping up monetary stimulus to jolt an economy that has only recently shown signs of gaining steam, after nearly three years of disappointing performance. They extended a record-breaking monetary easing cycle even after food costs jumped and the real hit a record low, potentially fueling inflation. Despite those shocks, analysts still see consumer prices running below target next year.
What Our Economist Says

"The central bank could have declared this cut as final. It didn't though. In other words, the central bank wanted to preserve some degree of freedom to either maintain or cut rates in the next meeting."

--Adriana Dupita, Latin America economist at Bloomberg Economics
Wednesday's move was the fourth straight rate cut of 50 basis points, and it came hours after the U.S. Federal Reserve kept its key rate on hold. In their statement, Brazilian policy makers wrote that they see consumer prices below target through 2021 in all outlooks.
Annual inflation in November stood at 3.27%, according to the national statistics agency. Policy makers target inflation at 4.25% this year, 4% in 2020 and 3.75% in 2021.
"The most important message was that the current stage of the economic recovery requires caution in monetary policy," said Solange Srour, chief economist at ARX Investimentos. "That means the central bank is leaving the door open to either halt easing or cut by 25 basis points at the next meeting."
Since the prior rate-setting meeting in late October, the real has weakened more than 3%, the second-worst drop in emerging markets. Still, Campos Neto has said the Brazilian currency's depreciation hasn't translated into worse inflation expectations, and that the country's risk premium has improved.
"Overall, barring major currency depreciation above 4.20, the central bank inflation forecasts for 2020 and 2021 are not inconsistent with additional moderate rate cuts in the first quarter of 2020, at least one 25 basis point rate cut," said Alberto Ramos, chief Latin America economist at Goldman Sachs Group Inc.
President Jair Bolsonaro celebrated the central bank's decision, saying the government will save about 110 billion reais ($27 billion) in interest payments next year with the key rate at this level.
In a boost to sentiment, S&P Global Ratings revised Brazil's outlook to positive from stable less than an hour after the central bank decision, putting Latin America's largest economy a step closer to its first sovereign credit rating upgrade since 2011. S&P said that lower interest rates and economic reforms should contribute to growth and investments.
Swap rates on Thursday may show increased odds of a 25 basis point cut in the February meeting, the first of next year. On Wednesday, traders attributed a 40% chance to such event.