Brazil Caps Record-Breaking Easing Cycle With Final Rate Cut
(Bloomberg) -- Terms of Trade is a daily newsletter that untangles a world embroiled in trade wars. Sign up here. 
Brazil's central bank intends to hold interest rates going forward to consider the impact of the record-breaking monetary easing cycle it concluded on Wednesday with a quarter-point cut.
The bank's board, led by its President Roberto Campos Neto, lowered the Selic rate to 4.25%, as forecast by 35 of 45 economists in a Bloomberg survey. The remaining analysts expected borrowing costs to stay at 4.5%.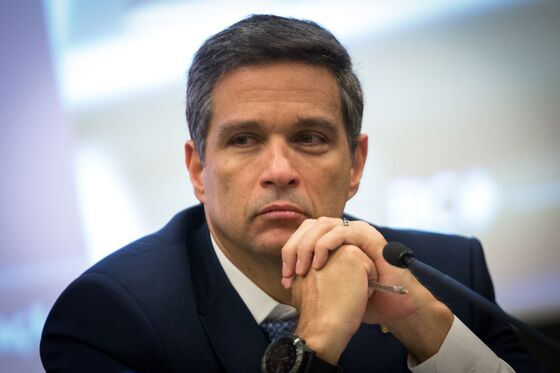 "In light of the lagged effects of the monetary easing cycle that began in July 2019, the Committee deems appropriate to interrupt the monetary easing process," board members wrote in a statement accompanying the decision.
After five consecutive rate cuts totaling 2.25 percentage points, policy makers are putting the brakes on stimulus as they seek to boost the economy without jeopardizing the inflation target. In the past month, industrial output and retail data missed estimates, while a coronavirus outbreak delivered a blow to China, Brazil's top trading partner. So far, the real's drop to a record low hasn't pushed up inflation estimates.
"By the middle of this year the central bank is going to start looking more closely at 2021 inflation, which will be higher," said Luiz Fernando Figueiredo, founding partner at Maua Capital and a former central bank director. "They also understood that monetary policy is stimulative enough to close the output gap in a reasonable timeframe."
Brazil's economy ministry expects gross domestic product to expand 2.4% in 2020, roughly double the pace seen last year. Still, the recent string of weak activity data coupled with fresh global uncertainties have given some analysts pause.
What Our Economist Says

"The post-meeting statement appears designed to curb market speculation not only on further cuts, but also that the central bank will maintain the rate at its current level beyond 2020."

-- Adriana Dupita, Latin America economist for Bloomberg Economics

-- To read full research, click here.
Economists from UBS and Pantheon Macroeconomics are among those who have tempered their optimism. They trimmed their 2020 growth forecasts for Brazil this week, citing factors including weak industrial production and concerns over falling demand from China.
While saying that their rate decision is consistent with the convergence of inflation to target, policy makers added in the statement that they're attributing growing weight to price projections for 2021.
Economists surveyed by the central bank still expect inflation to ease well below this year's target of 4%. For next year, however, they see consumer prices in line with the 2021 target of 3.75%.
Annual inflation stood at 4.34% in mid-January, according to the national statistics agency. The real's performance -- the second worst among emerging market currencies so far this year -- could fuel price increases by making imports more expensive.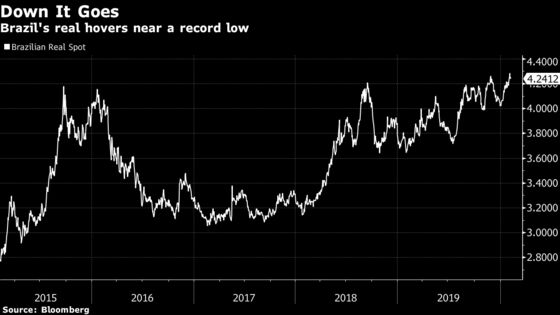 Read More: Brazil Central Bank Interest Rate Statement Side-by-Side
Central bank board members reiterated the need for caution in monetary policy, and added that the next steps will depend on economic activity, balance of risks and the inflation outlook.
"The statement was more hawkish than expected," said Roberto Secemski, a Brazil economist at Barclays. "The greater emphasis on 2021 inflation forecasts, which are currently close to the target, reinforce their cautious tone going forward."