Brazil Consumer Prices Rise More Than Expected Amid Rate Hikes
(Bloomberg) -- Brazil's consumer prices rose more than forecast in April, as central bank signals plans to lift its benchmark interest rate for the third straight time next month.
Prices rose 0.31% from March, above the 0.29% median estimate from analysts surveyed by Bloomberg. Annual inflation reached 6.76%, the national statistics agency reported Tuesday. This year, the central bank targets inflation at 3.75%, with a tolerance range of plus or minus 1.5 percentage points.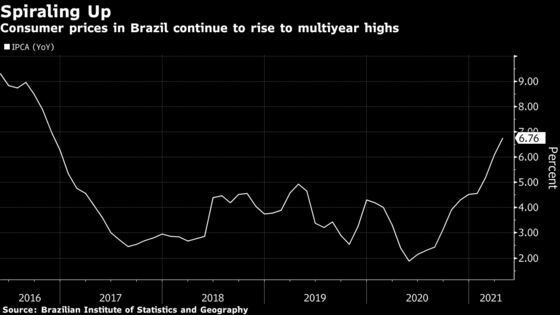 The central bank raised the Selic by 75 basis points to 3.5% last Wednesday and signaled another hike of the same size is on tap for June. Policy makers have been hit by sharp cost increases across categories from wholesale goods to fuels. Going forward, the government is facing pressure for even more spending against the coronavirus on top of the billions already doled out.