Bosnian Hardliners Prevail in Vote, Risking New Ethnic Strife
(Bloomberg) -- Nationalists prevailed in elections for Bosnia's multi-ethnic, power-sharing institutions in victories that are sure to further fuel distrust and tension in a country that's been divided since a devastating war in the 1990s.
The Balkan nation of 3.5 million people has flirted with spiraling back into crisis since agreeing to a U.S.-brokered peace pact in 1995 that left the country semi-divided along the ethnic lines but with centralized rule. The Serb half has threatened to declare independence, which would exacerbate tension in a region that's at the heart of a struggle for influence between Russia and the West.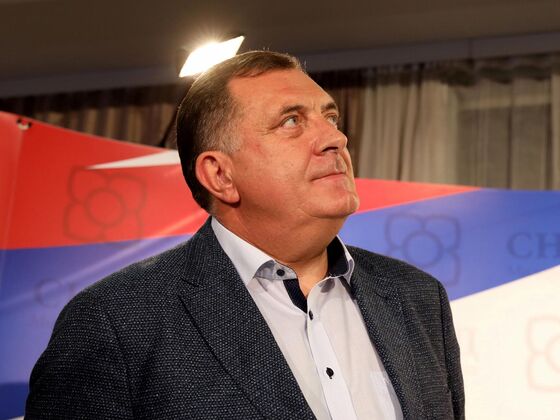 Pro-Russian Serb leader Milorad Dodik won the race for the Serb seat in Bosnia's three-member presidency, defeating moderate Mladen Ivanic who sought another four-year term. The two other winners for the body were Sefik Dzaferovic, of the dominant Muslim group, and Zeljko Komsic, who'll represent ethnic Croats, despite warnings from parts of his community that the outcome may lead to a power paralysis. The Oct. 7 vote was also held for central and local parliaments under a complex representation system for the groups that once fought each other.
"The number one priority for my future work will be the position of the Serb people" in Bosnia, Dodik said Sunday. "I'll reject any policy of interference by foreigners."
More than 100,000 people died and millions became homeless in the 1992-95 war. Now Bosnia is divided into Serb and Muslim-Croat autonomous areas, linked by a weak central government. Dodik has served as the president of the Serb half, Republika Srpska, calling Bosnia a "failed state" that should be split up.
Dragan Covic, who failed to win a new term as the Croat representative in the three-member presidency, conceded defeat to Komsic but warned that the outcome was decided by Muslim votes, distorting the preference of his community which may result in "unprecedented crisis." Bosnian Croats, similar to Serbs, have sought more autonomy, heightening tensions in the half of Bosnia they share with the Muslims, or Bosniaks.
All three ethnic groups agree that Bosnia should join the European Union, but Serbs oppose seeking membership in the North Atlantic Treaty Organization. Discord and barely functioning joint institutions have slowed any progress toward integration. Bosnia applied for membership in the bloc only in 2016 and has the status of a potential candidate.
The vote was also held for separate parliaments in the Muslim-Croat and Serb entities, a bicameral central parliament, as well as for 10 lower-level assemblies. Ethnic tensions may hamper efforts to constitute the bodies in the coming months.